I pretty much calculated my day around the arrival of this package. It came from Oregon, stopped at Kentucky, and then arrived at my door this afternoon.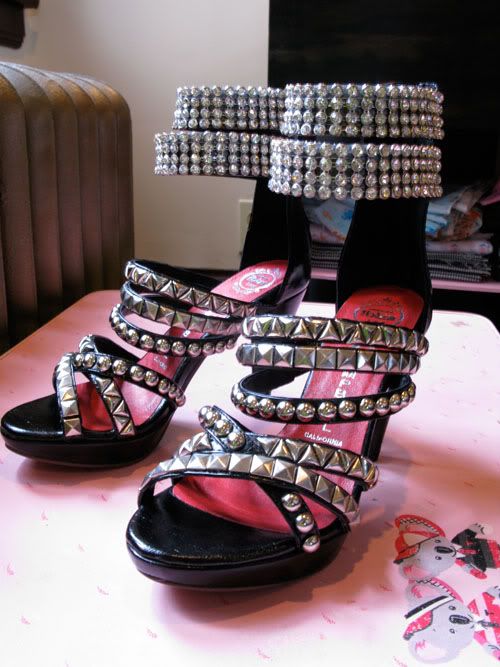 As I read more about clothes, shoes, and bags online by anyone and everyone, I am finding that a lot of what comes into style really does trickle down from the runways. I go into stores now and can roughly identify the origins or the inspirations behind clothes, shoes and bags at mass-friendly stores, from H&M to Bebe to Club Monaco.
So I had been reading about Aldo's
SMEAL
(
MOLAVI
is similar, possibly less insane heel/platform combo)
here
and
there
, and Mordecai being a supporter of all things Judas Priest-inspired offered to acquire a pair for me for my birthday. Apparently, these are more or less knock-offs of or heavily inspired by
Balmain's studded crystal sandals
. I visited a couple of Aldos dowtown and scoped them out in person. But then while flipping through the latest Teen Vogue (April 2009), I noticed a similar pair, the MEL, by Jeffrey Campbell for $50 more.
Zara
had a pair out as well apparently, but 1) I hate the Zara at Old Orchard and 2) they probably wouldn't have them due to either the store employees being blah or legal issues. I thought the Jeffrey Campbells looked more like the Balmains and generally looked more sparkly and fun, so I hunted these suckers down. Akira's and Lori's didn't carry them, and I diligently checked
Solestruck.com
everyday. They were finally
up on the site
yesterday! So I ordered them to be delivered overnight, and they were on my feet almost exactly 24 hours after I placed the order.
The shoes are surprisingly comfortable; I think it has to do with the platform up front so that the feet aren't angled so steeply. The rhinestone anklet is mad shiny and indeed sparkly fun! The heels feel stable and I think are thicker than the Aldo or Zara or Balmain versions, so I am very content with that. BTW, my birthday has passed and I am healthy and unbroken **KNOCK ON WOOD** Let's hope nothing happens this weekend with these shoes.
I thought I'd share some other birthday spoils.
My mom and I have been out and about since I'm on Spring Break (it's a proper noun folks, must pay homage to the blissful week of rest!) and we stopped by the Levi's store in Wicker Park. It was love at first sight with this jacket, even though I look like a child (I had a Land's End jacket in this color growing up) or like I'm going to visit the Niagara Falls. My mom bought it for me, saying "Why not? It's the day after your birthday." Here I am posing in the way a Japanese baseball player stretched when he was on deck, waiting for his turn to bring Japan victory. (Can't remember who it was.)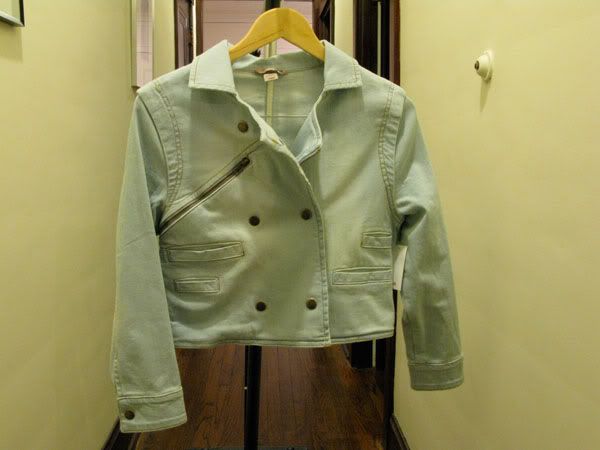 Today I went to H&M in the early evening and began doing damage to the H&M gift card generously given to me by Mordecai's parents. Again,
under the influence of fashion show-and-tell blogging
, I went straight for this jacket. It's weird how tastes suddenly change or evolve; I've never been a big fan of light-wash denim, but I'm all for it this spring. Maybe I am overly eager to celebrate spring's arrival.
Baseball card updates (they are related to the celebration of my birth) will go in another post--those are harder to write about because I'd like to scan them but that entails scanning them. I have a good cover for my Fantasy League baseball card collection too, so look out for that in the next episode.