A few nights ago, we went to Next for the first time. The fall menu for this year is "Kyoto," or their take on the kasieki meal. Most of these dishes are the chef's interpretations of kaiseki ryori. I was a little nervous since I had never been to Next, I've never had kaiseki, and a lot of fancy Japanese food has historically repulsed me. But I was brave, and I was rewarded well for it. Photos, descriptions from their menu and my own elaborations, and some thoughts below.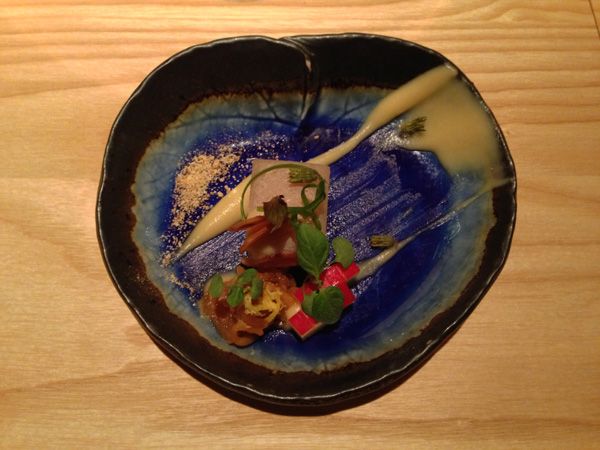 "chestnut, apple, white miso, hay aroma" -- the little block is chestnut tofu, and the sauce was described to us as white miso with apple butter.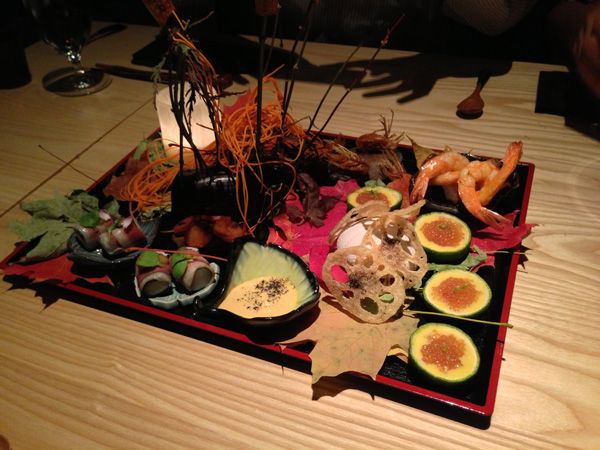 "japanese maple forest" with many shrimp and roe hors d'oeuvre type things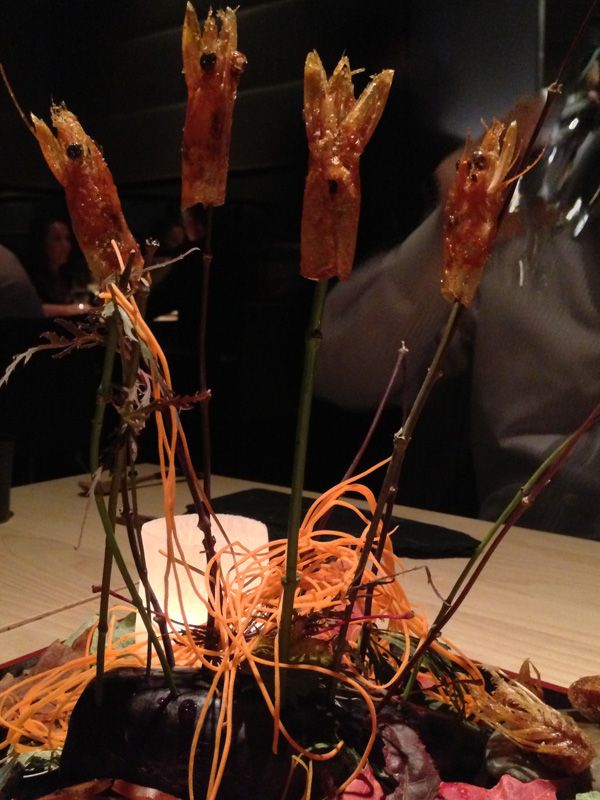 The "trees" are crispy shrimp heads.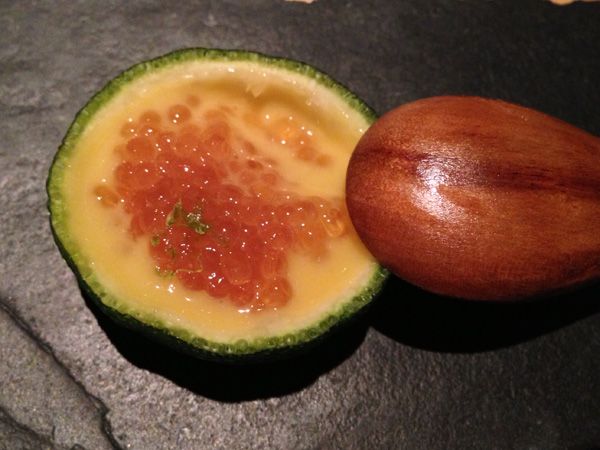 Maybe these were supposed to represent toadstools? Roe and (salty!) corn pudding in a little yuzu rind.
Skrimpf eyes! It's like fancy
kappa ebisen
.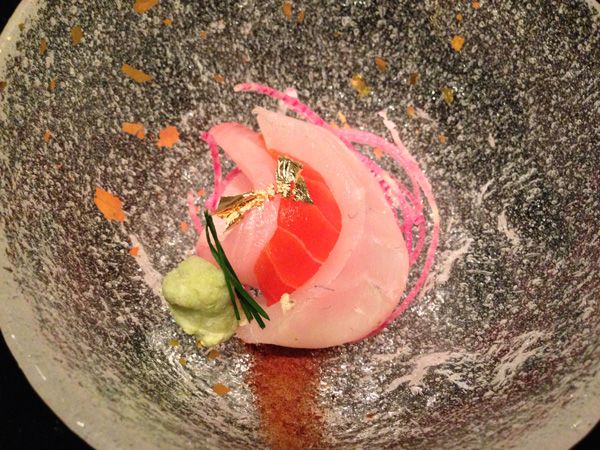 "sashimi, shiso, tamari": kampachi, salmon, medai with gold flakes and fresh wasabi (there were two dipping sauces: tamari and shiso)
"abalone, cucumber, red sea grapes" featuring kinome leaf, which make tongues tingle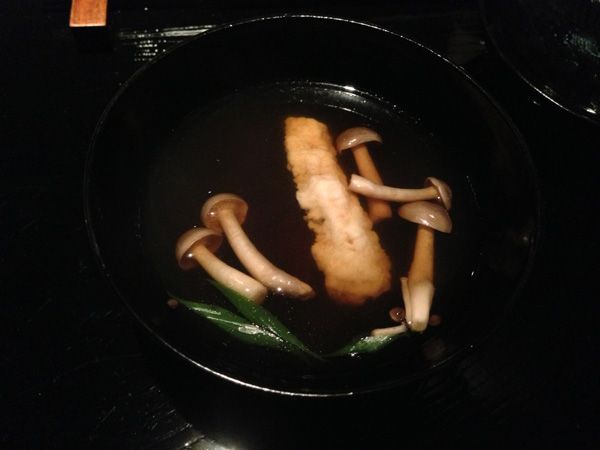 "anago [saltwater eel], maple dashi, shimeji mushroom"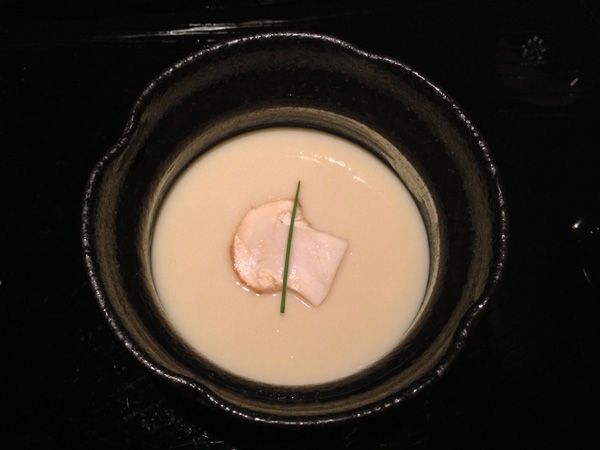 "matsutake chawanmushi [savory egg custard], pine"
I eat my chawanmushi like Pepperidge Farm Verona cookies (the ones with the jam in the middle)
Ayu. Dipping sauces were soy sauce with cured yolk, and wasabi puree.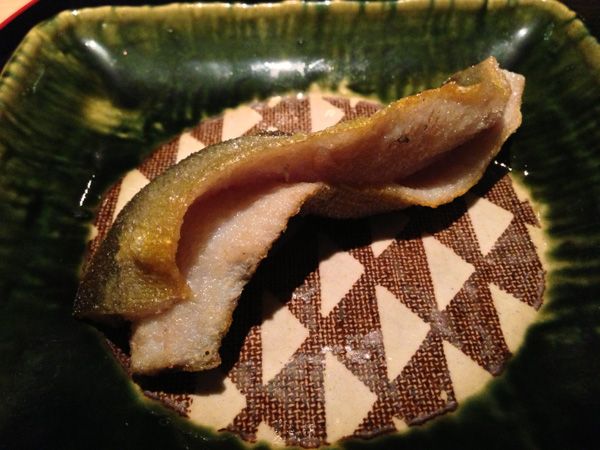 The ayu was reportedly from a river in Kyoto. I still don't understand how that is true. Our server said that this wouldn't be available in a couple of weeks since they'll be out of season, so I guess in November, people will be getting another kind of fish.
Fried chrysanthemum, eggplant, and shiso leaf. Flower was edible but this was an item I had trouble eating.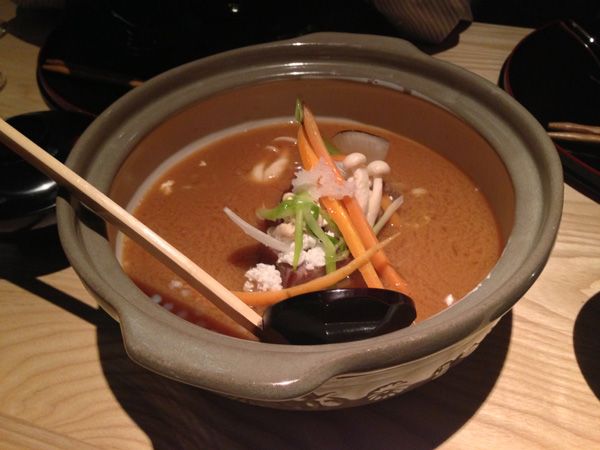 Red miso soup with wagyu beef and vegetables. This was served with rice (Tamaki Gold, available at Mitsuwa [I asked]). There were pickled vegetables with this dish but they were too wasabi-y for me.
Dessert: roasted fig, yuba (tofu skin), and grapes on a little bed of reduced soy milk. This was a little salty to me but whatever the grapes were, they reminded me of tiny
kyoho grapes
.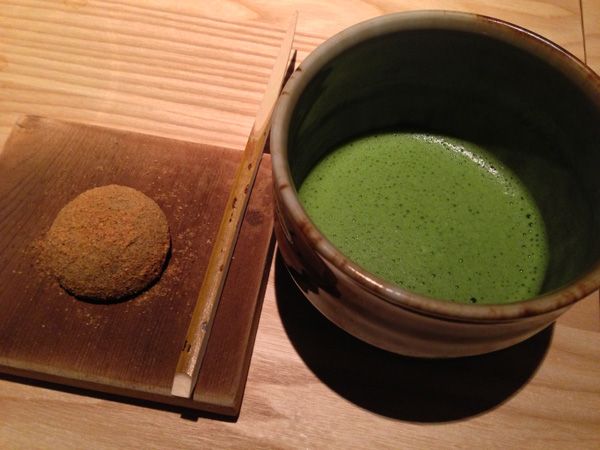 Shime (closing): warabi mochi (childhood favorite of mine, but the ones I know are the ones from convenience stores) with red bean paste/jelly inside and macha green tea.
We had a non-alcoholic beverage pairing, so that many of the courses came with some concoction of strange flavors. For instance, we had a yuzu, pear, seaweed, and bibb lettuce puree drink with the forest course; the sashimi came with a ginger, soy, cucumber and lime drink; the soup came with an apple-barley-licorice drink. There were a couple more of these strange, what were ultimately, juices. This might be a bit of a backhanded compliment, but they reminded me of juices sold in PET bottles in Japan. Like Natchan and Calpis. Subtle in flavor (at least compared to American juices) and kind of thin and watery in texture. They were interesting combinations, never unpleasant even if one was suspicious of an ingredient. I was happy we went with that rather than just water or alcohol.
My favorite dishes were the following: anago maple dashi soup (reminds me of Yokohama's
Wakana
, an eel establishment from mine, my mother's, and my grandmother's childhoods), the red miso soup (reminds me of what sumo wrestlers eat; it has a very home-y feel, but still special because of the buttery wagyu), and the warabi mochi at the end. It was better than Japanese convenience stores' warabi mochi, lol. Aside from flowers and wasabi being a weakness of mine, there was an uni-mayo dipping sauce for the fried lotus rings in the "maple forest" course that just straight up tasted like what I imagine licking the bottom of the ocean to be like. For similar reasons, the abalone course was a little tough for me to get through. For similar reasons, I thought I'd have difficulty with the sashimi, but I did not! It was the prettiest dish and very much edible by my standards. I'd even say I liked it a great deal.
Eating at Next feels like getting exclusive seats at a show or concert, or like getting an exclusive and personal tour of a rare art collection, only you're eating everything. I felt a little guilty, enjoying this exclusive and expensive meal as a mere grad student, but my grandmother has some saying about there being no such thing as wasted luxury. This is a meal I will always remember, undoubtedly a point of reference in years to come.