Lately, I've been baking bread and pastries. I've made cinnamon rolls with Emily before, but she handled the dough while I just spread tons of butter, sprinkled tons of cinnamon, and rolled things around. With some inspiration from Haewon, I decided to get a little more involved. First I made Bittman's famous no-knead bread recipe, whereupon I reaffirmed my dislike for Bittman and his what I think are oversimplified recipes. (I also always think back to
Phoebe's remarks on Bittman
.) The crust was impressive, but the bread itself was so bland that I don't think I'll make it again. I know he updated the recipe, but it offends me that the first recipe caused such a great stir on the Internet six years ago. So then I upgraded to Peter Reinhart's "pain a l'ancienne rustic bread" from his book,
Artisan's Bread Every Day
. With my first try, I made mini-baguettes and a boule last week. My mom said to me in passing today that it was the best French bread she's ever had and has requested that I make some the day before going to Japan to share with my grandmother. I mention "in passing" because it wasn't like she was gushing about it and overly praising her only child; it seemed like she carefully came to the conclusion over the course of the last week, during which she ate the portion that I gave her to taste.
I also made cassis-filled raspberry macarons last weekend. French macarons continue to be an obsession of mine even though I very rarely buy or make them (I hadn't made them since
this one time
). They really are difficult because they're so temperamental, but I think I enjoy trying to be sensitive to them. Maybe it's like how I enjoy trying to be sensitive to all of Mitsu's needs and desires, except that I don't get to eat Mitsu. Maybe a better comparison is my attempt to see what my vegetables last summer were sensitive to, though it's weird that I'm more attentive to bread than I am to living plants. Maybe it's that bread, after it's risen, feels kind of fleshy to the touch. That's creepy, but touching dough before it goes into the oven really does give me a slightly maternal feeling that is strange and pleasant at once. Anyway, I might try another batch of macarons soon, this time something involving caramel.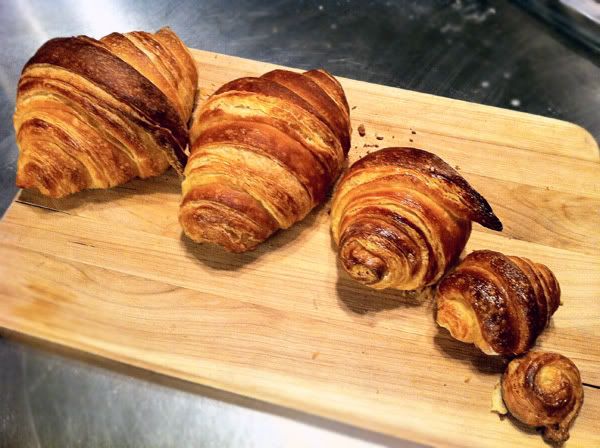 And today, I tried Reinhart's croissant recipe. This is another tedious recipe that calls for lots of careful dough rolling. I supposedly made 81 layers of bread and butter; I lost count after the first three. His recipe calls for about 1.5 sticks of butter; I think it could stand to use a little more butter just because croissants are notorious for their buttery richness, but if you want a manageable amount of butter (either or both in terms of handling and later, eating), then I recommend Reinhart's recipe. My only real complaint is that I imagined more gloss, so I'm going to have to deny his poor egg wash suggestion and lean on Mordecai's (from his youthful days as a Long Island grocery baker), not that these things are all that difficult to figure out. In the future, I'm eager to stuff croissants--with either chocolate, ham and cheese, spinach cream, or my mother's suggestion: red bean paste combined with cream cheese. What the whaaat, Akane?!
With all these sources of inspiration, if I do say so myself, I think I'm doing pretty well for an amateur bread baker. Mitsu seems to agree; I've never seen her pick up anything as quickly as the sound of the bread knife at work and what it promises!