Baseball season is over, but the pursuit of baseball cards continues. Yesterday we attended the
Mounted Memories
show out at the Stephens Convention Center in Rosemont. Part of the highlight was an opportunity to meet Carlos Quentin. Mordecai had the added bonus of meeting Gary Carter, a hero of the victorious 1986 Mets. This was a good week of meeting stars!
Gary Carter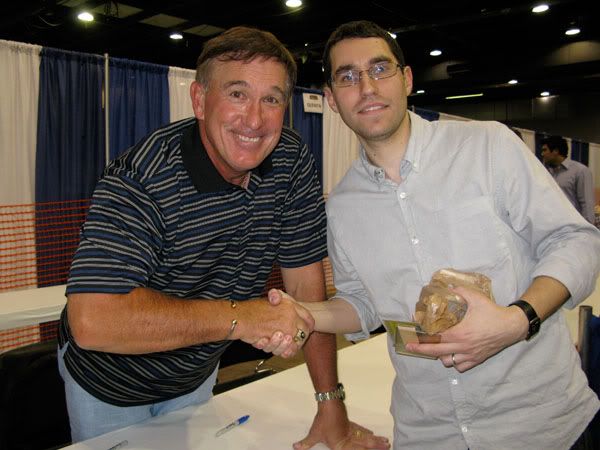 First we met Gary Carter, who was very friendly. Mordecai introduced himself as a Long Island native, so they exchanged some words about that and the Long Island Ducks. Supposedly, Gary Carter is known to be particular about what he signs and for how much, though you wouldn't get that impression from actually interacting with him. Mordecai explained to me that it might be his agent who is picky. I took a picture of what seemed to be Gary Carter's Agent.

Sweatpants!
While in line, you can catch glimpses of other famous people who are greeting fans and signing things. We saw
Rollie Fingers
to our left, so I tried to snap some non-blurry pictures. This is the best, clear view of his famous mustache. Johnny Knox was signing things to my right, but his facial hair wasn't as interesting. He did have some powerful eyebrows. That's about all I can remember.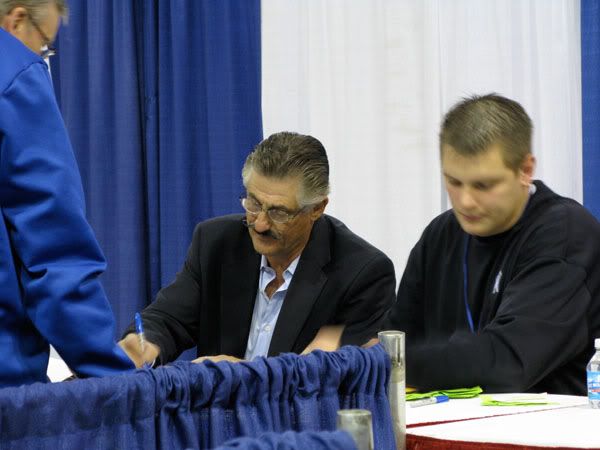 Carlos Quentin
While in line for Gary Carter, I saw Carlos Quentin come out from behind the curtains. He is so rectangular! His head is also kind of boxy! He may have had a bone spur in his foot and subsequently contributed to the White Sox failing this past season, but if you haven't noticed, he's also the tall, dark, and handsome type.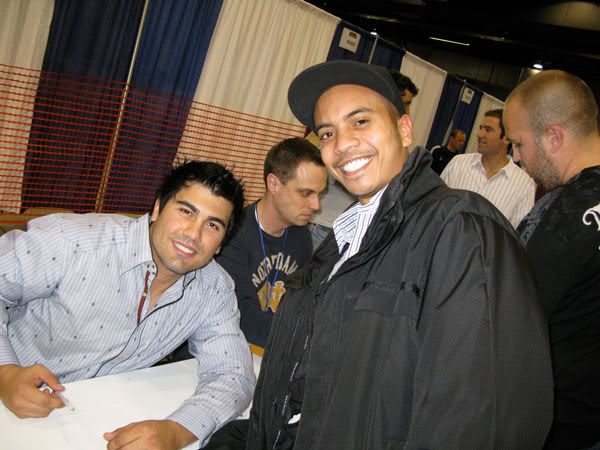 Here is Shaun with CQ. Notice Quentin's
Chris-Getz-like shirt
. This shirt isn't bad, but someone needs to dress athletes more regularly, especially for signings. What's that red trim on his shirt? Anyway, look at Quentin's impeccable eyebrows! Look at Shaun's GRIN!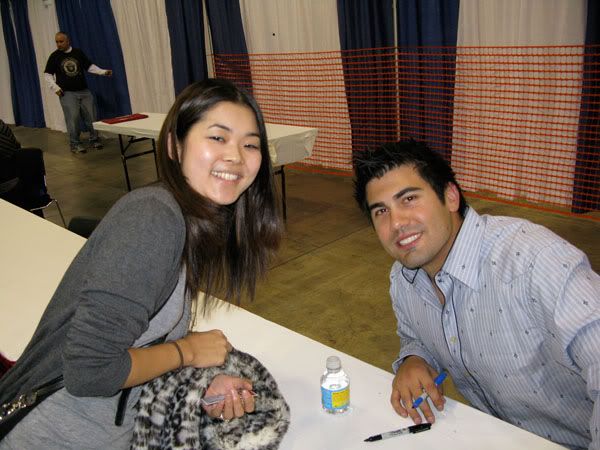 When I met Alexei Ramirez and Chris Getz
, I was star struck, but I think I may have been more star struck meeting Quentin. I have the impression that Quentin is a bigger star than Alexei, perhaps only because he is physically bigger than Alexei. I just kind of stammered and floated about in front of him until Mordecai took our picture. By the time it was Shaun's turn to get his ball signed, I lost my opportunity to shake Quentin's hand. Mordecai reports his handshake was a little moist, but firm. I missed out! Shaun asked about his plantar fascitis; Quentin said it's a lot better. Luckily, Mordecai doesn't seem to be attached to having Quentin on his fantasy team. The Poppersteins will gladly take him into the family next year!
Others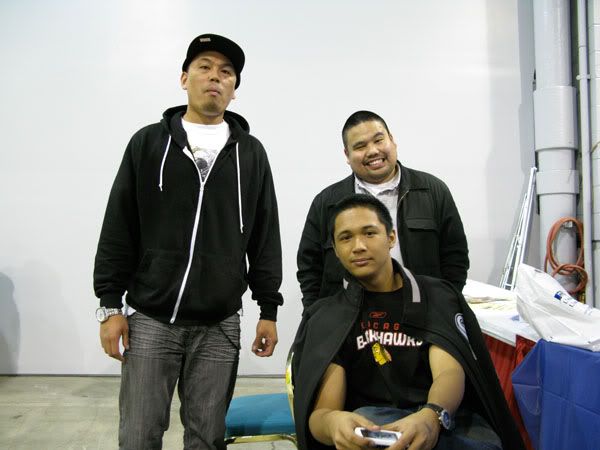 I like this portrait of the rest of the card show gang--Dan, Joe, Bryan. Dan got a box of basketball cards, Joe got a bunch of loose jersey & auto cards, and somehow, Bryan is uninterested in cards (!!!). Someone needs to get that boy a box of cards and experience the thrill of the chase. Maybe he's not into chasing things, though. I've only seen him excited about Kobe Bryant, Rock Band, and playing softball.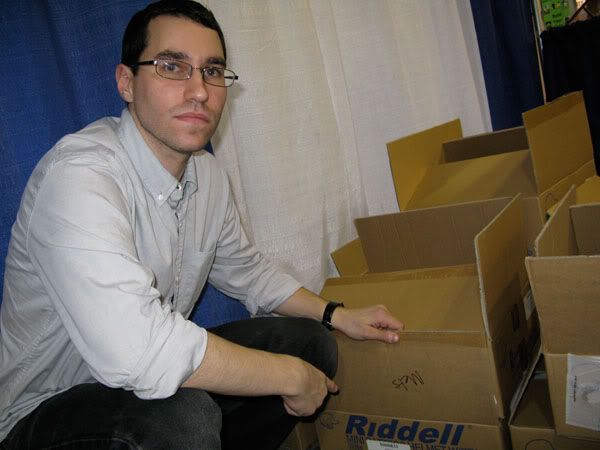 Mordecai noticed an empty box labeled "Mets." It appears the box was for pink mini helmets. For the ladies, perhaps? Maybe this is a good time to segue into a few words on my experience as a female at the card show.

Since I began collecting cards last spring, it's become apparent that many card stores do not have a big female clientele. This is not surprising, but what does surprise me a little is that people are quite vocal about a girl coming into their store, not merely there to accompany their male friends. I'm not bothered by this or anything, but I find it interesting that people are not at all shy about the matter. In fact, I like collecting these little experiences. If there was a photo capturing the essence of each one, I'd try to make cards out of these anecdotes.
So yesterday, the old man collecting ticket stubs at the entrance made a few remarks about why I was there and jokingly/creepily said he wanted to see me after the card show. Later on, while perusing $5 jersey cards, the vendor came over to me, Mordecai, Joe, and Shaun and he said to me, "I'm sure you had to drag these fellows to the card show!" I said that yes, they were kicking and screaming about it. At another vendor's set-up, Mordecai and I picked out a few cards to purchase and I went to pay. I reported to Mordecai that the vendor gave us a $2 discount. Mordecai said, "Yeah, that's why I made you go pay." (Hmm. How can I exploit Mordecai to get insignificant discounts?)
Maybe none of this would happen if I looked more like the Greg Olsen woman. This lady wearing a Greg Olsen jersey was as wide as she was tall, thereby being pretty much completely round. For some reason
she was sitting by herself on the ground next to the escalators by the empty entrance of the convention center
. She looked like a fat stray cat, contently lounging in a place where she didn't quite belong. Later I saw her with what seemed to be her family, and they looked like they appeared from the mountains, but wearing Greg Olsen jerseys. But I guess I wouldn't have my little anecdotes to collect, so I will continue to bumble about these card shows, letting Mordecai think we're getting $2 discounts because I paid for the cards. Yes, surely, those four Mike Piazza cards from the 90's are worth $11.