I have been looking forward to shopping in New York. First there was a trip to Roosevelt Field, a gigantic mall on Long Island in Nassau County. I'm a proud shopper of Woodfield Mall out in Schaumburg, so I was curious to compare and contrast the 8th and 9th largest U.S. malls, respectively.


Man scoping out the parking situation...he will later make a crazy turn out of his spot (Camry behind him) to get in that line on the left, causing the Audi in the back to get pissed off and not let him in, making us wait for four cars to pass by before we can continue on to get blocked by a parked taxi and then go around the lot to get in a different line to get out of the single exit for this parking structure.
For better or for worse, there is little documentation of this trip. It consisted mostly of navigating through densely populated crowds, since it was the day after Christmas. Roosevelt Field feels much more cramped than Woodfield, too, so that added to the chaotic atmosphere. Later, we spent an hour and a half in the parking lot waiting to get out. I have never seen such an inefficient parking exit in my life; I'm pretty sure that Woodfield can get bad, but I don't think it'd take over an hour to get back on the expressway. However, I got a sweater on sale at Club Monaco and a purple and gray striped shirt on sale at Zara (first success since 2005 in Paris!), so I can't camplain (sic).
Today, we went to Manhattan, mostly downtown. Who knew there was an
Ippudo
in New York?! This past summer, I was told that Ippudo was famous in Japan and was taken to one in the Queen's Tower of Yokohama. Reunited!
Corner of 4th Ave & 10th St--Ippudo is on the first floor of the building with the wood-y facade

Left: Shiromaru from Yokohama; Right: Shiromaru from NYC


Ippudo is known for their tonkotsu soup, which is a tasty pork-based broth. I was surprised to see that the NYC location was kind of posh, with dim lighting (hence the difference in color between the two photos?), fancy murals, mirrors, and couches. There were a number of Japanese customers, including families and at least one businessman with a suitcase next to him. I'm certain there were more Japanese people in Ippudo than there are in the entire Chicagoland area. Anyway, that's a good sign that the ramen is good, which it most certainly was.
We moved on to Uniqlo and Muji, where I got down to business. Inspired by
Phoebe
and
Gwyneth Paltrow
, I got a pencil skirt more or less on impulse, though I did try it on. I also got black skinny jeans and "Warm Up" herringbone-patterened tights. To my surprise, the skirt was $30 less than I expected. Score! At Muji, I got a planner, small-ish notebooks, a purple pen, and socks made of recycled plastic.
Ozawa Seiji!? Or just a cool Japanese man!?
I really like the boutique-y part of SoHo, along Prince and Spring streets between the subway station and Broadway. I've become familiar with the area over time more than other parts of Manhattan--we met with Jenni there last year, and in previous years we've scoped out the Bape store and bumbled about. This year, the most remarkable difference was that I heard a lot of French, German, and other European languages I was unable to identify. It seems like they were often confused about where they were, thus getting in my way, but nonetheless generally happy that the dollar is pathetic.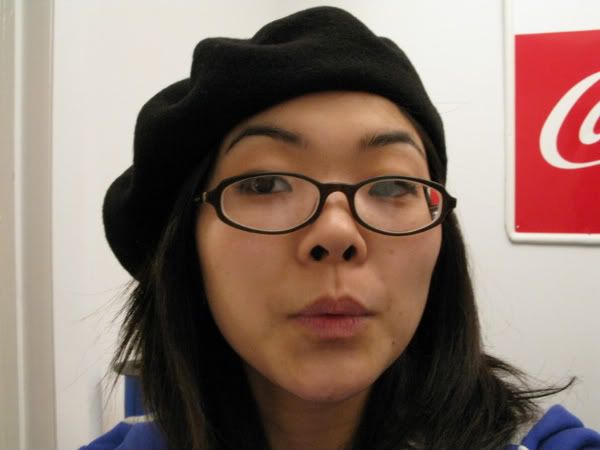 Before heading back to Long Island, we stopped at the
JJ Hat Center
, which Sean recommended, not too far from Penn Station. It looks like they only carry men's hats, but hats are hats and gender doesn't really matter. A nice, enthusiastic and hat-knowledgable man helped me out. I ended up with a beret, and am currently sitting on whether or not to get the Bowler/Derby hat. What kind of statement would one make by wearing such an ostentatious hat? There is one other hat store I'm eyeing, so we'll see about that on Monday.
Also, can I just say that 0% to 4.25% tax on clothes is insane? Why didn't I notice this before? It kind of doesn't make sense, but again--can't camplain (sic)!
To be continued.