The past few days have been full of activity. While the PS3-HDMI business gets taken care of and while we get real games and while I finish my paper(s), let's review the recent contents of my mailbox.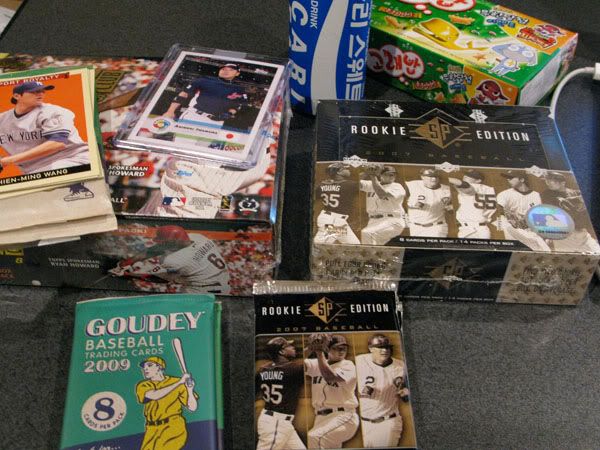 First, I received some Topps World Baseball Classic cards from the generous
Grandcards
. As I type, I am listening to the Tigers vs. Twins game, and Granderson just robbed Joe Mauer of a home run in a tied game, bottom of the ninth. Granderson seems to be pretty good at this. I can see him with his GAME FACE on saying, "JOEL I GOTCHU" with fire in his eyes. Anyway, Joe pointed me to Grandcards'
funny story
about bear-like Fernando Rodney's '09 Series 1 card, which has a picture of a non-bear like pitcher, who turns out to be someone who hasn't pitched for the Tigers since '07. Grandcards points this out to Topps, who says thanks and offers the "2009 Topps World Baseball Classic Cards with Fernando Rodney in it as compensation" for their mistake. But Rodney isn't in the set! Grandcards offered most of the cards to readers, and I asked for NY Mets'/Puerto Rico's Carlos Beltran, Tokyo Giants/Japan's Abe Shinnosuke, and Tampa Bay Rays'/Japan's Akinori Iwamura. I have absolutely no way of repaying Grandcards, but I will cheer on Granderson for the rest of my life. Thank you sir!
Added bonus that evening: when we got our PS3 at the South Loop Target, we stopped by the baseball cards and I noticed a few Goudeys that were scattered about. Looks like someone wasn't pleased enough to take them after opening them without paying. These cards need a good home, I thought, so I walked around with them in my hand to show I was not stealing, but saving the cards, and we walked away with a good PS3 deal and some bonus Goudey cards.
Then early this afternoon, I got my "hot" Goudey packs from eBay. I am attracted to the unattractiveness of Goudey cards. I guess they're Upper Deck's response to Topp's Heritage cards, which I initially didn't like. But now that I've seen the hot mess that is Goudey, Heritage cards look like museum-worthy works of art. So, what did I get? Aramis Ramirez jersey, Joe Mauer jersey, and Gary Sheffield jersey. NOT EXCITING AT ALL. That's what I get for
technically cheating, or fueling demand for hot packs,
I figure. I don't think I'll get these on eBay again; I'll just get boxes that guarantee something.
And then later this afternoon, the UPS man dropped off my 2008 Stadium Club box and Joe's 2007 Rookie Edition box. The Stadium Club box is laughably light, even though it's much larger than Joe's Rookie Edition box. The number of cards explains this, but it's still funny to actually feel and see. I'm pretty sure that I asked for five packs of Upper Deck 2008 Series 2 as my bonus free stuff from
dacardworld.com
, but they gave me four packs of 2007 Rookie Edition, which is yes, what Joe got. But in one of those packs was an autograph from JOE SMITH, then a pitcher of the Mets, and according to Joe, now injured with the Indians. Anyway, I am waiting to open the box in the presence of both Mordecai and Joe, so that I can share my experience of pulling autographs and base cards that I already have.
Last note: My mom and I went to Assi on Dempster and Milwaukee, a Korean Mitsuwa-like supermarket. They have a satellite bakery in there, Crescent, which according to my mom is the underdog to Hippo at Mitsuwa. Crescent has some MAD SOFT sliced bread; I'm surprised the slices don't crush themselves. At the supermarket, I picked up some Pocari Sweat, a slightly salty, Gatorade-like drink, packaged in this tall, skinny, steel can that I remember from back in mid-90's in Japan. I also got this snack, which I recognized as the Korean version of Japan's Ottoto (o-to-to). I can report that both versions are equally addictive (I ate the entire content of the box in about five minutes after taking the photo above).
This is a text-heavy post; I hope I made sense.