Thursday and Friday I wore similar outfits but varying in color. Both shirts are Mordecai's, and they happened to match my two pairs of Doc Martens, which pleased me a great deal. On Thursday it was warm-raining, which I don't particularly mind. At the Jackson train station, a young man approached me on the platform and remarked, "Damn, you lookin' kinda sexy in all that purple." I had to break it to him that I'm engaged to be married. I'm also pretty sure he was over five years younger than me. But anyway, what was so great about this moment in my life was that at the station platform nearby, a man was playing his bass with some background music and I realized that the song was "PURPLE RAIN." I think there were purple fireworks in my head!
Today I hung around the office, met with a couple of students, and later met up with Mordecai to go downtown. I noticed more logic notation on the office board than usual. Since it was so orderly and covered the whole thing, I decided to document it using PhotoBooth. It's Sean's work, presumably for his 210 students. I really ought to retake 210, and probably with Sean, but for now I will just pose with it.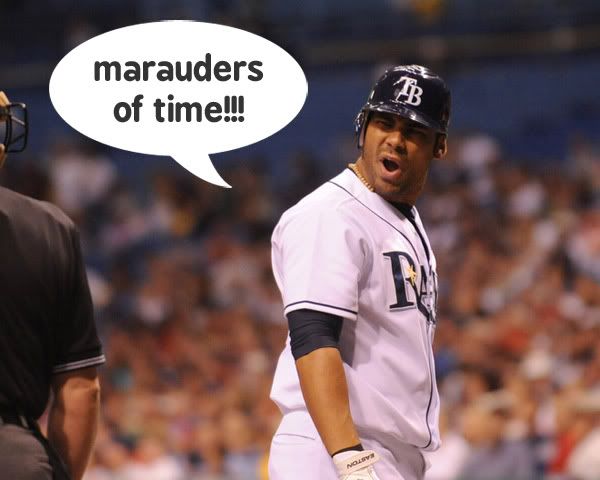 In other news, I started up another blog exclusively for Fantasy purposes:
MARAUDERS OF TIME
. Here is Carlos Peña, the unofficial spokesperson for our new blog. He leads the MLB with 10 home runs thus far into the season. Somehow he currently surpasses all other proven sluggers. He's my utility player hero!