This post could also be called, "Reason #23984 Why I Should Be a Cubs Fan." (More details on that in the hopefully near future.)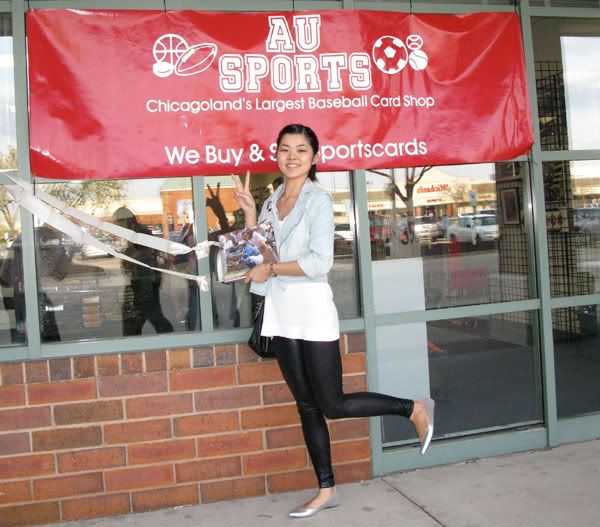 Mordecai, Joe and I first encountered Skokie's AU Sports on Dempster before it moved to Village Crossing. I think I was a little bewildered by the disorderly state of the Dempster location but looked forward to the new, near-Chili's location. Aside from Meijer and AU, I have no place to purchase, in person, pricey hobby packs of 2008 Stadium Club with a chance to pull a rookie autograph I already have or what I would consider the haunted Nick Adenhart autograph. Mordecai and I dropped by AU's new location last weekend for its "pre-grand opening." Joe went a few days later, and while the store was closed, he noticed a sign at the door saying that the Cubs' backup catcher Koyie Hill would be doing a signing at AU the following weekend.

We weren't particularly committed to going until the very last minute. The three of us are White Sox fans anyway, and I think our combined knowledge of Koyie Hill was rather minimal. I was kind of curious though, and at this point my love for baseball is so enormous that I'll take any active player's signature and a photo with him. So, along with cards, Mordecai and I got a photograph of Koyie and Joe got a baseball for Koyie to sign. He arrived in a white SUV with his daughter, which was quite endearing, and was very pleasant to everyone. I don't like speaking to strangers unless I have to, so naturally, Mordecai did all the talking. He asked for it to be signed to "Kei and Mordecai." My theory is that as a result, Koyie thought I was absolutely foreign. He also wrote "Go Cubs Go!" which I didn't see on other people's signed things, to the extent that I could see them. On all kinds of levels, I probably am absoultely foreign. Anyway.

Joe said that Koyie reminded him of Dustin Pedroia. I saw a picture of Pedroia without his helmet recently, and I started to see what Joe was saying. But I think it went more like this: the baseball gods made Koyie Hill and they were like, "Not bad. We'll keep this template." And then they made Dustin Pedroia but something didn't go exactly right, at least visually, along the line. But it was good enough, so they moved on. I don't know if Pedroia has nice teeth, but Koyie had some nice pearly whites.

Here is Joe with Koyie. Joe admitted to being star-struck.

I don't think I'll ever be a Cubs fan, but I think I'll always be somewhat sympathetic. I have too many connections and I can't seem to evade them (again, more on this later). Andy has Geovany Soto, and I probably won't ever have an opportunity to meet Geovany Soto, and Geovany Soto's shoulder is "sore." Perhaps it will get sore-er. So, I will forever root for Koyie to be the Cubs' starting catcher. Go, Koyie, Go!