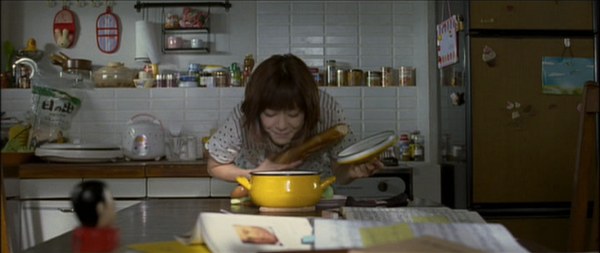 I realize that to most people, this is a movie and not real life, but to me...it is what it is. Chiaki helps Nodame cram for a number of piano sonatas so that she can be considered to enter competitions while studying abroad in Paris. In addition to assisting her analyze, interpret and play better (not that she can't do these things on her own, but I think she tends to, in her own charming but not necessarily approved manner, get carried away and ignore the notes and directions on the page more than the average student), he prepares her meals. Here, he's made "vegetable soup" (yasai soup) even though I spy a rather conspicuous wiener. She leans in to smell his concoction while holding a baguette, with which she has just been humorously struck by Chiaki, and then sees that he has been up all night preparing to prepare Nodame. They're currently working on
Beethoven's Sonata No.31, Op.110
, which she will later play for Stresemann, a.k.a. Milch (played so wonderfully by Naoto Takenaka, who was in the original/native version of "Shall We Dance?"), which will significantly stir things up later. This chapter in the DVD is referred to as "Love's Lecture." I think.
When I watch this scene, I can smell that soup. I imagine it to be a dish that is a Japanese cook's take on Western food, which reminds me of Chiaki himself. He was raised to eat with a fork and knife rather than chopsticks, at a dining table rather than on the floor with a low table, but at the core, he is Japanese. Anyway, I WANT THAT SOUP.
Chicago weather has been pretty steady and nice, but generally, I wasn't looking forward to the fall. Then I revisited part two of the Nodame movie series the other day, and realized a couple of things. One is that I need to revisit Nodame once a year. The other is that it's good to do this during the fall and winter, because most of her outfits involve plaid and are perfect for those seasons. So for the past week, I've been perusing style.com for Nodame-like outfits at New York's Fashion Week, trying to see if there are any designers who have the same eye for fashion like Nodame's mom, who makes her outfits. (In "real life," if you must, "Nodame's mother," in the sense that she makes her daughter's clothes, is
this store
.) Then I remembered that there are other fashion weeks in other cities, and I will want to save some perusing energy for at least Paris. And then I realized that they're all showing spring designs, but I'm too excited to be looking for Nodame clothes again that I don't really care.
VEGETABLE WIENER SOUP!