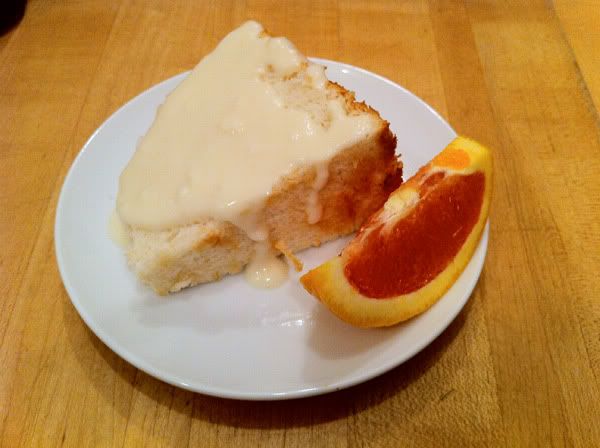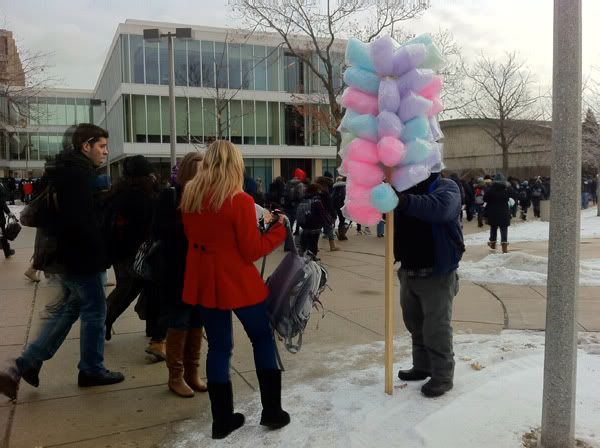 I've been searching for the ideal dessert. I like to believe that I'll know it when I eat it, so I figure I'll just make lots of desserts and see what pleases me the most. So far, the front runners include my standard strawberry tart,
grapefruit cassis
, and
macarons
. (I find
La Boulangerie's
to be the best in Chicago that I've tasted so far.)
Last week I saw
Giada making angel food cake
. It seemed like a nice, light dessert, so I tried it out. I like angel food cake because it involves lots of egg whites and sugar, like marcarons, but the yogurt honey sauce didn't seem to go all that well with the cake. I added fruits for garnish (blackberries one day, cara cara oranges the next at my parents'), but this didn't add or take away from the cake. Basically, while it wasn't bad, I will never make this again.
Next up:
Ina Garten's coconut cupcakes
. I really want cream cheese frosting...now! I wonder how it will fare in comparison to
Emily's frosting
.
Unrelated to my desserts, but I guess it's a kind of dessert, or snack, is cotton candy, now apparently available on campus. Seriously? In January? It sells? Is class at UIC now like attending a sporting event?
***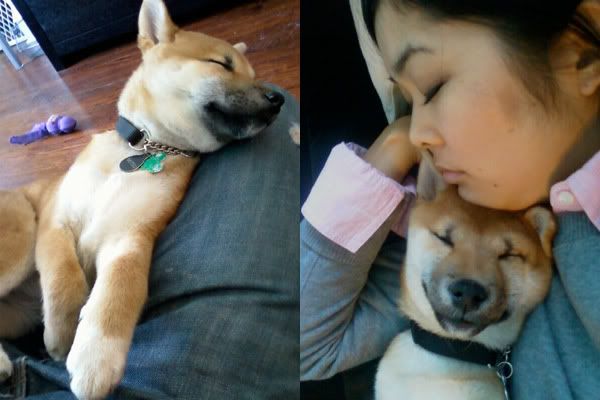 Sleeping princess; sleeping fools
Certain corners of the Internet are in great debates about raising children. (Don't forget
this take on the story
.) What I find interesting about all of this is how in many ways, the discussion parallels dog training. Do you praise your children and let them be picky eaters; do you train dogs exclusively through positive reinforcement like
Victoria Stilwell
? Or do you call your kids garbage and make them practice piano without bathroom breaks; do you make your dog submit to you or expend their energy on treadmills like
Cesar Millan
? My mom let me be a picky eater and showered me with praises, but at the same time, a lot of Amy Chua's explanations in her WSJ excerpt made sense to me (and why it might not make as much sense to "Western" parents). And likewise, positive training works well with Mitsu, but with nipping/mouthing/biting, merely walking away and ignoring her briefly does not seem to cut it. I try to teach her "kisses" by rewarding her for licking my hand, but this process is usually preceded by unpleasant biting. How do I know she's not learning to bite, then wait for "kisses" command to receive treats? Puppy, please.