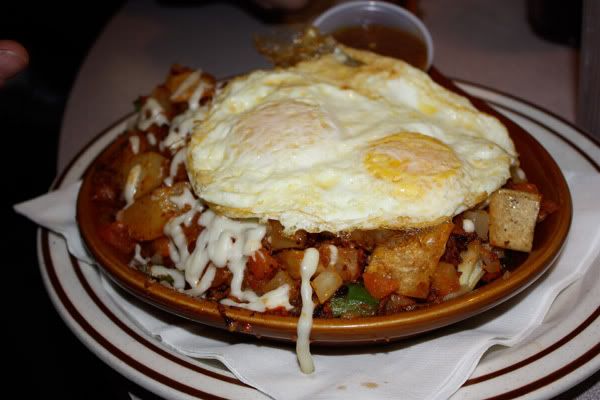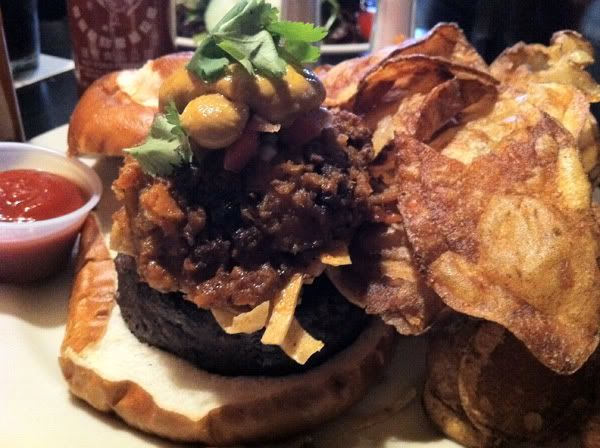 If you know me, or have been to Golden Nugget with me on more than one occasion, then you know that I will likely order the Guadalajara Skillet (first photo). It is a skillet of potatoes, onions, peppers, chorizo, cheese, tortilla chips, topped with a fried egg, accompanied by a side of salsa and a hot pepper, and it also comes with corn tortillas.
Today, I encountered the Guadalajara Skillet in burger form, or its "brotha from anotha motha." At Maddi's request, we went to Kuma's Corner for lunch (best time to go? Sunday, 11:45AM), and I ordered the "Megadeth," named after the band (second photo). It is a burger topped with a chorizo and potato hash, tortilla chips, and a cayenne avocado mayo-ish sauce, served on a pretzel roll. I had the handmade chips, as you can see. I imagine the Guadalajara Skillet and the Megadeth writing letters to each other, reunited without ever knowing they were separated.
Dearest Megadeth,
I hope you are well. At Golden Nugget, they continue to ring the annoying bell every hour so the employees know to wash their hands. I don't know if they actually do. The funny-looking Asian girl continues to order me, regardless of the location. She always takes me home, and I feel special. Maybe one day you will meet her.
Best,
Guadalajara Skillet

Hey Guaddy, Yeah that little lady came, ordered me and took my creamy cayenne avocado top off. She just SHUT IT DOWN. I guess she likes chorizos and potatoes a lot. Over here the music is still loud and I saw a waitress rub her nose a lot with her hand, so I was like Oh Shit It's Dirty Up In Here but then I saw another lady with blonde and black hair find a stray strand of hair and she properly took it to a garbage can, or at least out of my sight so I was like Oh Snap Maybe It's Alright Here. Sometimes I sense that big old devil dog but it stays outside and doesn't eat me. My worst nightmare is to be devoured by the Beastmaster. Anyway this crazy little Asian girl had me BURNT! The waitress was like Watch Out Now but your girl was like Oh You Don't Know Me Honey. Okay I'm sick of writing to you because I'm a burger and I shouldn't be and don't want to do this, I'm gonna go smell good now, so bye. MEGADETH
We saw Senshi, an Akita, behind Kuma's Corner. I know Kuma was an Akita, and I wonder if Senshi is to Kuma like what Oji is to Yuki for my family. He looks like Oji's "brotha from anotha motha" so I felt compelled to pet him, but I knew better than to stick my hand in between the bars. Not that I ever knew a mean Akita, but you never know. That combo of black head and golden eyes is amazing.
Now I will continue to imagine what life will be like on Wednesday and on. Will the Shiba puppy hate me for the first couple of days? "How dare you take me away from my littermates and mother! Who are you and why do you smell bad?! SHIBA SCREAM!!!"