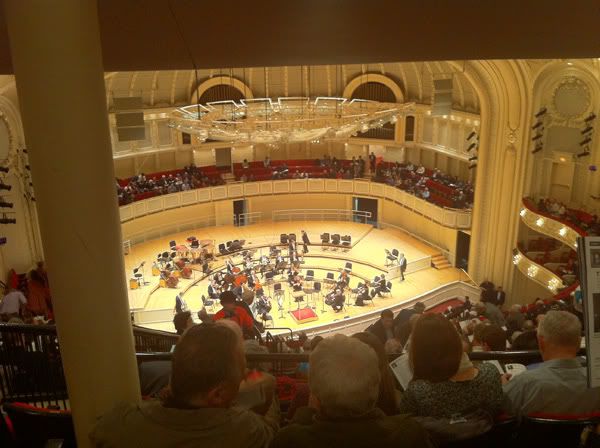 Last night Mordecai and I saw a Chicago Symphony Orchestra performance of some Mozart, Beethoven, and Mendelssohn. (I recommend taking advantage of their "student ticket" system.) I've been into classical music lately, but only to the extent that this all pertains to "Nodame Cantabile." (I saw the two movies, which left me with so many questions, but settled the main ones between Nodame, Chiaki, and music.) There were two reasons why I picked Thursday's concert: 1)
Jonathan Biss
, the pianist performing Beethoven's concerto,
looks like a snooty Mordecai
, and 2) I recognized the beginning of Mendelssohn's Italian Symphony from the Nodame soundtrack.
We went to a pre-show lecture on Mozart's Symphony 23, Beethoven's Concert no.2, and Mendelssohn's Symphony 4. The
woman-encyclopedia
talked for 30 straight minutes about the three composers, what they were going through when they composed the pieces, and how they all related to one another. It was like a human Wikipedia article but somehow more trustworthy. What was most helpful for me was her explanation that the fourth movement of Beethoven's concerto had a rondo structure of parts: A, B, A, C, A, B, A. ("Music students say it as a word, 'abacaba.'") I had been listening to the concerto before the concert, but never really listened for any patterns beyond the first movement, so when Biss performed, it was nice that I could locate the A parts ("like the refrain in a pop song") and anticipate the different B and C parts. Prichard had also explained that the last movement of Mendelssohn's symphony was going to be aggressive, so I looked out for that as well, having never heard that symphony beyond the first two minutes of the first movement.
If you can't tell by now, I've had problems in the past trying to get into classical music. I need something to notice, pay attention to, or else I will get bored and start thinking about random things, or I will just doze off. Even if I am familiar with the music (this past summer, we went to see Beethoven's 1st and 7th symphonies; it was pretty AWESOME to see Nodame's theme music live!), the performances are so ephemeral, not loud enough in my opinion (I want it all to go BOOM in my ear!), and it's all just so different from being able to press << and listen to or see it all again.

Mordecai's advice to J-Biss: Don't comb your hair back.
So aside from some superficial familiarity with the music, I had one more thing to my advantage, which was what Jonathan Biss looked like. We were in the upper balcony, so it was hard to tell exactly what he looked like in person, but he seemed super tall, lanky, even gangly. It looked like his wingspan was such that he could play two concert grand pianos if he wanted to. My guess is that he can reach an octave-and-a-half or more with one hand. His feet looked huge as well, like Sideshow Bob's. Anyway, it was hilarious to see a Mordecai-look-alike sway during the orchestra's parts and wave his head around while he played his parts. (It's even funnier if you imagine Mordecai in
this
pose, or
this
one. Maybe I can imagine this better, or find this funny, only because I get front row seats to his comedy acts.) I have no way of providing a serious judgment of his performance, but it was nice to have a view of the keyboard live, instead of just hearing a version through headphones, or
getting a straight-on view of Mitsuko Uchida's ridiculous facial expressions during her performance
.
And then came the french horns. Mendelssohn's Symphony 4, or "Italian" Symphony, has two french horns, and they have a pretty prominent part throughout the whole thing. They keep a kind of bass line going while the strings are doing their main-melody thing in the beginning, and Mordecai's claim was that they were way too loud. This seems to be a complaint not so much about the horns, but the conductor,
Antonio Pappano
. (I said maybe Pappano's Italian heritage was responsible.) And later, Mordo says, the horns themselves messed up when they had the spotlight. It was as if something was caught in their reed thingamabob (that thing that collects the spit), or as if they didn't blow enough air, or, figuratively, as if the horns' voices cracked. I think that I heard what Mordecai heard (he has more sensitive ears than I do), but I wasn't confident enough to say that this sounded effed up to me. When the concert was over, there was the usual clapping for five minutes so that the conductor could come out three times, but some people left immediately. I thought this was normal especially since it was getting towards 10PM and there were tons of old people whose bedtime was probably when the concert started (you know, like how people leave early or right after a Sox game to avoid parking lot traffic!). Mordecai said he assumed everyone else was mortified by the horns, which I thought was funny. (Does everyone assume that others are like them?) I had no way of gauging whether others found the horns to be shameful, and I wished more than ever that Twitter could be useful for this reason. But alas, 95% of the audience was over 70, so what could I do. I checked, but of course, no one tweeted about Jonathan Biss, the CSO that night, or about those pieces. One person tweeted that they were going, but nothing about their thoughts on the show or french horns. I suppose I could've gone to the ladies room after the concert and eavesdropped, but that only occurred to me right now. Although, I didn't think about checking Twitter for french horn complaints until I was in bed. See, it's not always about "the good old days" vs. "kids these days." I'm just slow!
ETA: Two reviews (
here
and
here
) confirm a number of things. The french horns are probably unable to sleep at night; there was a strange buzzing sound during the Beethoven piano concerto; Mozart's symphony was faster than "usual" (at least, faster than the recording I bought on iTunes); though born and based in London, Pappano is, let's just say, "unapologetically" Italian.