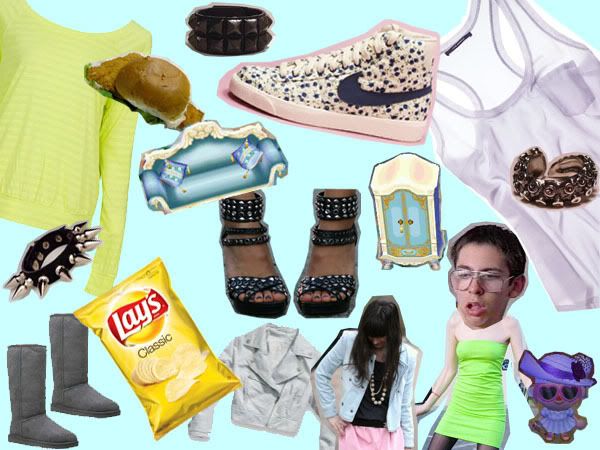 As my time at the Reg recedes farther into the past, my Photoshopping skills increasingly deteriorate. I need to bring them back up to make a collage of my fantasy baseball team! Here is my practicing round, a collection of the things I currently covet and the things that I am otherwise somehow obsessed with. I still like things that look like something Rob Halford might wear; purple; greasy food; and reviving the 90's, this time through neon, floral print, and lightwash denim. Being mistaken for an undergraduate is still on my agenda, willfully or not--so I have some interest in Uggs, especially after trying my mom's pair on the other day. They are super comfy! My feet looked like odd forest creatures. As of late, Mordecai and I have been watching "Freaks and Geeks" nonstop--I love this guy Bill. And of course, I'm still Animal Crossing, trying to get my hands on the super-expensive Princess furniture set. So far I have the wallpaper and lamp. It's trying when you have 4.5 million bells accruing interest in the DS game but less than 50,000 bells in the Wii version, and no way to transfer the money.
From the top left, clockwise:
Forever 21
fluorescent-green-ish top; Lawrence's Fisheries Fish Fillet Sandwich;
studsandspikes.com
black pyramid studded bracelet;
Nike Liberty Blazer hi-tops
; Club Monaco sheer lavender tanktop;
OctopusMe
tentacle ring; my Animal Crossing character; Bill from "Freaks and Geeks" wearing an American Apparel flourescent-green-ish tube dress;
Le Blog de Betty
wearing the H&M denim jacket to her right; Lay's Classic Potato Chips; gray Uggs;
studsandspikes.com
tree spike bracelet.
Center: Gracie Grace's Princess sofa and closet, Spring Collection;
Fashiontoast
wearing
Aldo SMEAL sandals
.