I gasped when I saw these at a convenience store that is hidden in a building directly across the street from the Art Institute (same building that also contains Au Bon Pain and Bennigans).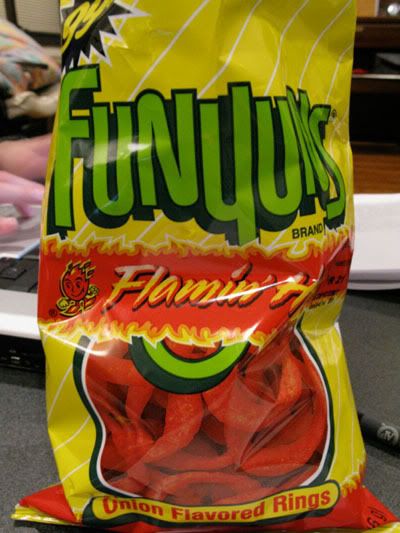 The man at the convenience store claimed that the 99 cent bags of chips are undergoing a price increase, so "some of the flavors" of Funyuns, including these Flamin' Hots, were going to be discontinued. I had already grabbed two bags, and didn't feel like making a big scene so I just said, "Oh really? Glad I got two." The clerk might have insider info, but according to the Frito-Lay website, I can still get them at five locations in my zip code. I wondered what he meant by indicating that there were multiple flavors aside from original and Flamin' Hot; turns out that there were
Wasabi Funyuns
, which is insane. I'd probably die if I ate those.
I have to say, they weren't that different from the original Flamin' Hot Cheetos. The Flamin' Hot recipe contains a lot of onion powder, so Flamin' Hot Funyuns is a rather redundant concept. But really, who can complain about more onion powder? (Except for someone who is not eating Funyuns or Flamin' Hots and has to sit near you.) Or the novel experience of Flamin' Hot in a different texture? I hope they continue these, and continue to discontinue the Wasabi Funyuns.