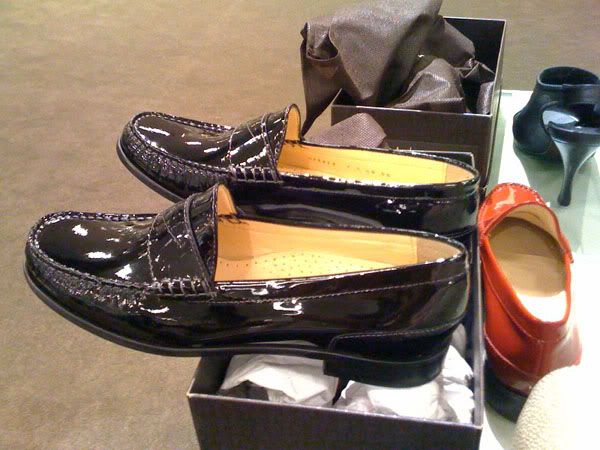 Wednesdays are my "day off." I have nowhere to be except in front of reading material and a computer, presumably typing away at something. But today...the weather was so nice, and the forecast predicts plunging temperature later this week, and my mom called me to play. Outdoor suburban mall, OLD ORCHARD, IT IS!

As usual, I made my Zara rounds, found things I liked and decided not to buy them. Astute. I wanted to see if there were any
G.H. Bass penny loafers
at Nordstrom, originally a shoe store. I have been eyeing penny loafers for about a year now, but was worried about what to wear with them. I have no such problems now with the spirit of
Rachel Berry
and
Emma Pillsbury
following me everywhere I go, whether it is my own closet or Forever 21 or J. Crew. The problem with the Zappos and the G.H. Bass website is that the black patent leather ones are "coming soon." Well, how soon? Today's high was 70F, but we are facing the
impending doom
that is late fall and early winter weather. All of a sudden, we will find ourselves in a snowstorm like the Patriots did last weekend against the
Terrible
Tennessee Titans, but we will not be victorious like Tom Brady & Co. (59-0? FIVE TOUCHDOWNS IN ONE QUARTER? Really?)
Instead of classic Bass loafers, I came across these black patent loafers by Cole Haan, featuring some of that comfy Nike Air, ON SALE! Like, almost 50% off! My mom egged me on to get these. And so, penny loafers and I are reunited for the first time since about 1991. I used to put pennies IN the shoe, not in that little slit at the tongue. Now I can dress like Rachel Berry as a 25.5 year old! HAPPY GLEE DAY!
(If you can't tell, I wrote this soon after episode 9 of Glee aired.)