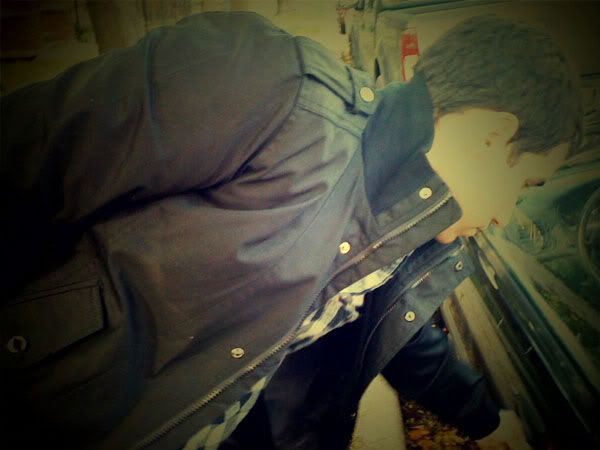 Yesterday I busted out the penny loafers. I wore them with a black dress and tights; I looked like I was either a week early for Halloween or like I attended a funeral. All I did though was go to my piano lesson, drop by the baseball card shop, and play Animal Crossing which as usual ended up in a nap. At night we went to see UFC 104 in Jonny's basement, so in case someone died, I was prepared to mourn right away. I've seen a man convulse as a result of not the breathing kind of choking, but the blocking-blood-flow-in-a-major-artery kind of choking. I forgot who he was, but I think it was the guy with a gigantic samurai tattooed on his back. Other UFC banter: Lyoto Machida looks like a manga character. I like how he shifts and twists his hips, like he's dancing, but really, he's preparing to kick his opponent. He was the one receiving most of the leg-beat downs yesterday, but whatever, I didn't have to mourn his or Shogun's surprise death.
Also, there's Mordecai locking his door in a new coat from Zara. He seems to be a fan of the epaulets. Why does he have more luck at Zara than I do?
These photos were taken on my iPhone with an app called Toy Camera. Sometimes I walk around with my Canon G9 and/or Sony W300, but end up taking pictures with my iPhone most of the time because of convenience. This is sad, but perhaps it's a sign that some giant companies need to start getting beyond-Toy-Camera creative.