Tonight we went to Andy and Melinda's new place. We ate and talked baseball, and to everybody's amusement, Andy passed out at 10PM. I heard Michael Jackson songs coming from the living room, so we concluded the housewarming party with Michael Jackson videos. I can't believe I had never seen the entire video for "Smooth Criminal" until tonight! Wuuut. Yet another video that I think trumps "Thriller." But if I ever get a dog, I think I'd like to name it "Thriller."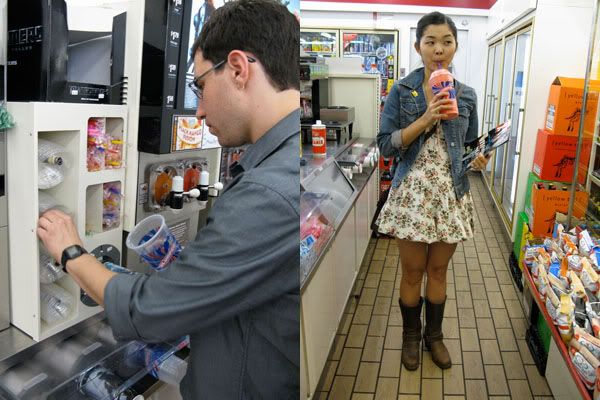 Before we went home, we dropped by a 7-11 for a Hawaiian Punch Slurpee. Before even entering, I saw Fabolous on the cover of a magazine and made a beeline for it. It was XXL's "Hip Hop Soul" issue, and he shares the cover with The-Dream, who is apparently largely responsible for Mariah Carey's upcoming album and lead-off single, "Obsessed." The magazine was a must-buy. Anyway, LOSO LIVES! I had seen signs of a pulse elsewhere; I guess he has an album coming out shortly.

I'd also like to highlight my Kelly Taylor-esque dress, by a designer named Tracy Feith for Target. It has neon-orange stitching and the bubble hem, which I've loved since the late 90's, early 2000's, when I first saw it in Japan in Cutie magazines. I'd have worn it with Doc Martens to keep the 90's vibe going with the jean jacket (Pikachu on collar), but I like wearing Fryes in the summer. I highly recommend floral dresses in the summer. Next up on my summer-wardrobe-wanty list: a good linen blazer.