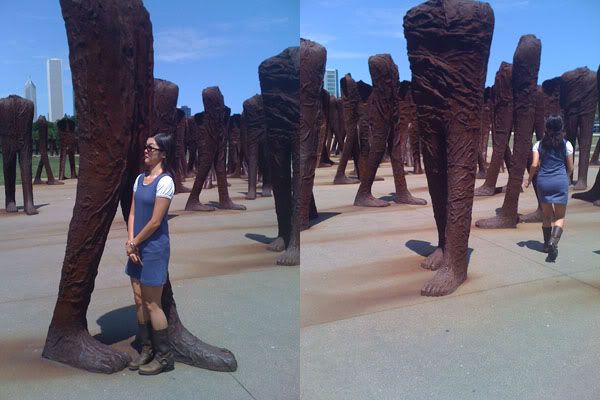 Today I met with Mordecai for lunch even though I wanted to stay at home and watch the Michael Jackson memorial on TV. But I couldn't find a listing for it on non-cable TV so I just brought my laptop with me. We ate at Little Branch Cafe, which is tucked amongst those insane and seemingly abandoned high-rise condo buildings near Soldier Field and the Museum Campus. That area of the South Loop is so weird.

On the way back to the more normal part of the South Loop, we stopped by the giant sculptures by Magdalena Abakanowicz. They've been around for a while now I think, but I've never seen them up close; they're kind of creepy. I've seen some of her work at Northwestern's art gallery, and I think her work is often about World War II, which means I probably shouldn't be making a face at the sculpture's crotch in my face, but it was right there.

I spent the rest of the day watching MJ's memorial on and off and trying to read Marxist literature on a computer screen. I can't believe Paris Jackson spoke at the memorial at the end; it's bad enough to see young children crying almost hysterically in public because they've lost their legendary father in an untimely fashion, but what's even sadder is that as the day went on, I wondered, "Did Joe Jackson feed her those lines? Was that scripted?" But Aunt Janet was on standby, so I felt a little reassured (BTW, where was Uncle-To-Be-Someday Jermaine Dupri?). I have to say, as inappropriate as this comment may be, I loved how Paris turned around at the end of her goodbye and just bawled into Aunt Janet's plentiful bosom.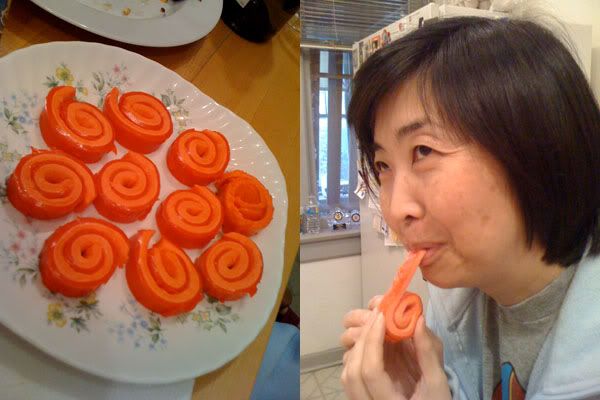 In lighter news, my mom made Fourth of July jello. She's been experimenting with all kinds of jello for the past few years. This past weekend, she made this maki-style kind of strawberry jello. The lighter layer was made with marshmallow, so it was a little soft and chewy. Here is my mom demonstrating one possible way of consuming the roly-poly jello. I am reminded of Fruit-By-The-Foot fruit snacks.