On Friday, Mordecai, Joe and I visited Nickel City. Three more Poppersteins were collected. I need three more to have a complete baseball team! I'm like "the crazy cat lady" but with stuffed penguins instead.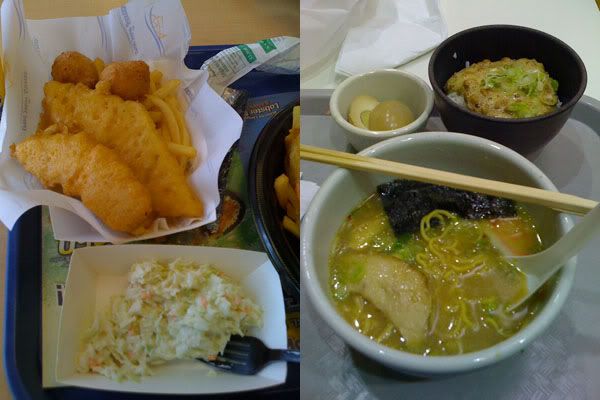 On Saturday, the three of us again investigated baseball card shops. AU Sports Memoribilia moved, but has yet to open in Skokie's Village Crossing. Big John and Little Debbie's was nice, but they don't seem to carry 2008 Stadium Club. Meijer was not an option on Saturday because we went to Long John Silver's for late lunch/early dinner, which meant we'd go home afterward to shrivel up like rasisins from astronomical sodium intake. I had the chicken and fish basket with coleslaw on the side. I couldn't eat the hushpuppies, and I'm not sure I would've if I could've. I don't understand their existence.
On Sunday, Mordecai, Sayaka and I went to Mitsuwa. I had ramen and natto (
fermented soy beans
) for lunch. I previously underestimated Santouka's ramen, which is reportedly famous in Japan. This shit is good! Will I return to udon next door? Also, Gabutto Burger is going to open soon in Mitsuwa's food court. I'm not sure what they're up to, but it looks fun. Meijer was an option after Mitsuwa, so off we went. Heritage packs were nowhere to be found, and being unable to leave empty-handed, Mordecai got the $4.99 pack of Topps '09. I got my Stadium Club pack, which yielded a David Ortiz Yankee's Stadium Slice and a Chris Perez auto that I had to redeem online. I also got a regular pack of Topps '09 for the sake of it. I love Topps.