Yesterday weatherpeople were threatening snow. It was cold and it drizzled, but no snow. People were prepared, however:

The man above looked so comfy when he sort of withdrew into his coat. I don't think either of these coats were real because the quality of their fur reminded me of
my own fake fur vest
.
I transferred to the red line and waited for the doors of the train to open. I saw a young woman waiting to get out, and then I saw her look to her right and she made a disgusted face. "Urine, maybe?" I thought. But it didn't smell particularly bad when the doors opened and I entered. I only noticed what the young woman had grimaced at when I was about to get off, only two stops later. CTA NEVER DISAPPOINTS.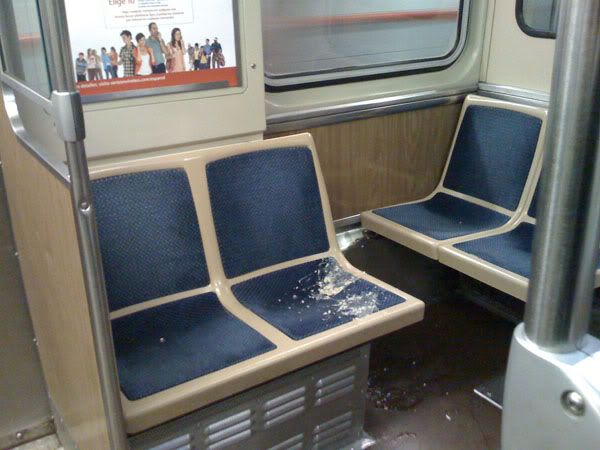 After lunch with Mordecai, I went to the Harold Washington Library to get some work done. The 60-minute time limit on public computers forced me to get some real work done. Also, it helped that the earliest baseball game that day started at night. Anyway, I looked over to my left and saw a young woman on a computer. One of her books caught my attention. THE HWLC DOESN'T DISAPPOINT.

The Basics of Pistol Shooting
. I suppose I don't have every right to be talking myself, with nonsensical Hegel at my computer.
I love Chicago.