Jenni has joined us this weekend for some Chicago fun. Last night we were hypnotized by commercials for
Burger King's new Burger Shots
(is that a picture of a fancy Whopper under the description of a Burger Shot?) and Joe's
recent obsession
, and set out on a quest to Burger King and acquire baseball cards at Meijer.
You can choose between a 2 Burger Shot Meal and a 6 Burger Shot Meal. We decided to have a big party of 18 Burger Shots total, which was a miscalculation on at least my and Jenni's part. Mordecai remembers Burger King's "Burger Buddies" from his childhood and was excited about trying these new ones out. Unfortunately he ended up disoriented because he forgot to ask for cheese. I have to say I am constantly amazed by the artificial "flame-broil" flavor that I can taste in Burger King meat. But I'm never impressed enough or care enough to return for more; I appreciate their advertisement campaigns, but I'm a Mickey D girl at heart. Plus, BK's Coke and fries are no good in comparison.

Then we went to Meijer out in Arlington Heights. Jenni found MLB Power Pros 2008 for the DS for $9.90! It took a while to find the trading card section, but Jenni found it and we went about deliberating. Mordecai got 2 packs of Topps 2009, Jenni got a value pack of Topps 2008, and I got a pack of Topps 2009 and a pack of Obama Inauguration Series cards. There was a round, large man sifting through football cards, feeling them to determine which to purchase. I should have interviewed him for insider tips.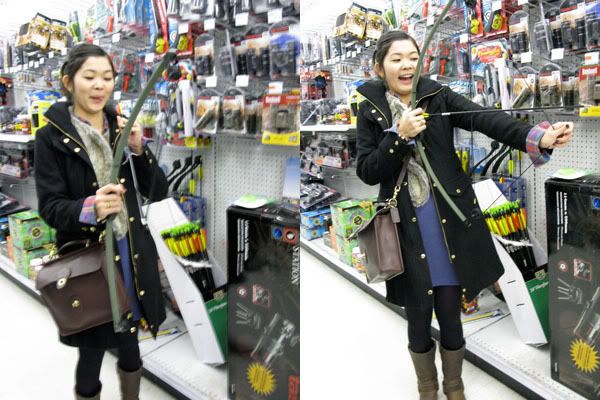 We wandered around Meijer before checking out. I didn't even know they had a "hobbies" section, with knives, paintballs, and archery. Mordecai refused to tell me how to hold the bow and arrow, demonstrating only after taking the photos above. My shit is totally backwards!

If you'll notice, Jenni and I are wearing similar outfits, varying in colors and outerwear. We're like a walking work of art!