Today was gray and rainy, but not too cold. Mordecai and I went downtown this afternoon. We ate at Fontano's first; I had a turkey sub. Not as great as Mr. Sub's, but satisfying nonetheless. It turns out admission to the Art Institute was free throughout February, and the Munch show was half off (still $10!).

We went partially to see the Munch show, and partially so I could do some research for my own class. I was disappointed that "The Scream" was not in the exhibit. There's some lame sketch of it in its place. I understand everyone wants to steal "The Scream," but can't they get some Norwegian special security to accompany the painting when there's a Munch show at a big museum? Jeesh. Also disappointing: a lot of the modern and contemporary stuff is in storage, waiting for the new modern wing to open in May. For instance, my
penguins
are nowhere to be found. I was prepared for this, but again, can't there be special accomodations?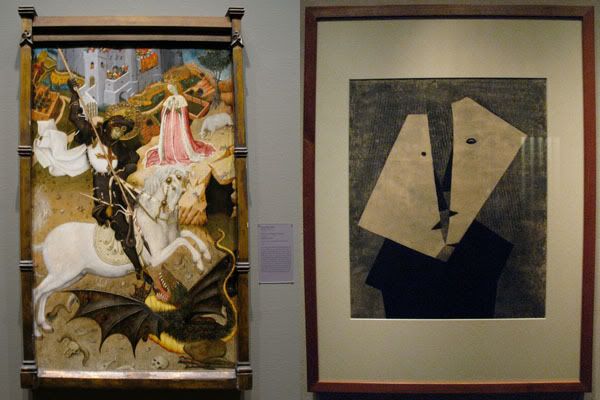 Photography (and lecturing!) was not permitted in the Munch exhibit, so instead I have these pictures of my other favorite works. I think my favorite works in the Art Institute tend to be ones that make me laugh--I laughed at the penguins, I laughed at the gold dragon-slaying, I laughed at this duo-person on the right from the Japanese modern print exhibit (it also reminded me of Aristophones' speech on the origins of love from Plato's "Symposium," which I just read again recently). The hush-hush and bow-down-with-respect-to-the-work atmosphere of art museum is too much for me, so I appreciate works that invite me to be silly.

Also noteworthy: blueberry tights! These tights are from Uniqlo, courtesy of Jenni. I want to live in all the Uniqlo things she brought from New York for me. I think if I do, I'll end up like Violet Beauregarde.

I love how unnecessary it was to roll her before sending her off to the juicing room (~1:08).