This morning I got up at 7:10 and got out of bed at 7:40. I didn't have the Eight O'Clock Coffee until about 9, but I had a relatively productive morning that made up for laziness from the previous 4 or 5 days. This is my new study area, near natural light when it is available.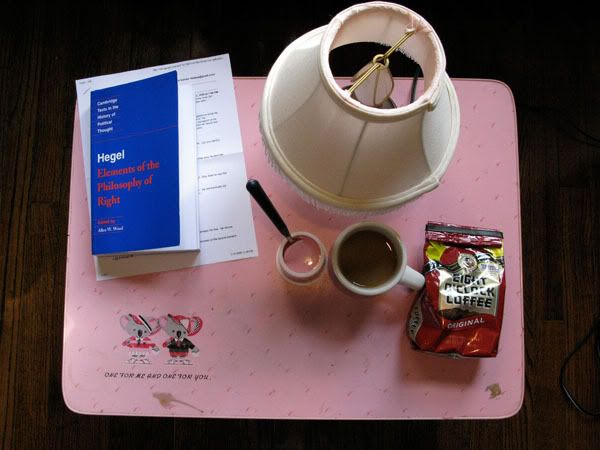 My fondest non-memory of Hegel is writing a 15-page paper on
Phenomenology of Spirit
back in the spring of 2004. I have absolutely no recollection of what the paper was about, or what the reading was about. I just remember writing it in the Regenstein and emailing Sam back and forth about how the paper was (not) coming along (ah, pre-Gmail days). Anyway, thank goodness for a fine professor who can make Hegel not only understandable, but appealing.
The coffee was good (and is reported to be
a good buy
, link via Mordecai), but you shouldn't take my word for it. We also got Dunkin' Donuts coffee grinds, so I will have my own taste test that no one should pay much attention to. I will report back nonetheless.
It should also be noted that I took an hour nap before noon. Still, progress is progress, peoples!