These pictures took less guts to take--the people are facing away from me, but they deserve no less recognition than forward facing subjects.

Some cool older men on the train. The first man seemed to have more character and flair than the second, but maybe the second guy is still developing his. He at least looks stylish. His stylishness seems to me uniquely Japanese in that everything is carefully calculated. Japanese fashion never seems to me whimsically put together, in that ubiquitous Olsen/Fashintoast "I just threw it on on my way out" sort of way (maybe that style is fading out now though). This man put more thought into his ONE outfit for this ONE day than I have for my own clothes and makeup in the past couple of weeks since I've returned from Japan. I mean, I put more effort into my clothes while I'm there, but I cannot look that well-edited when I go out.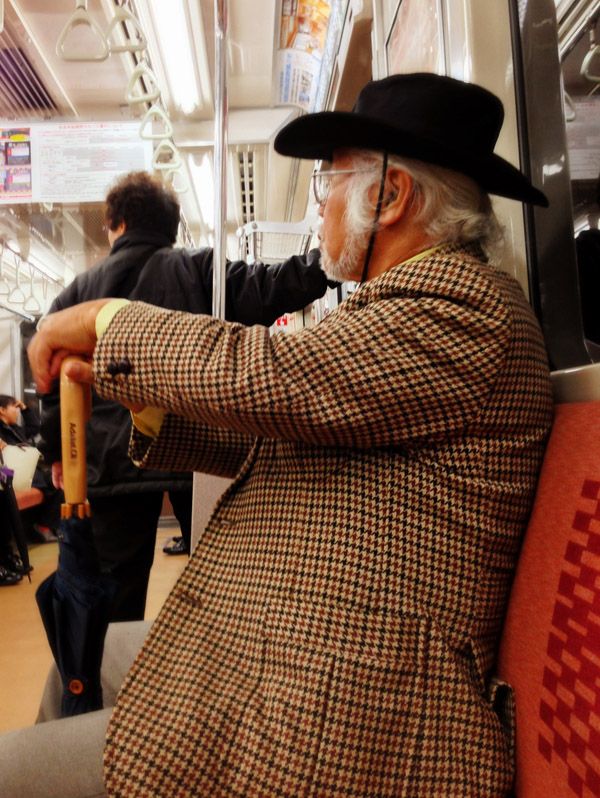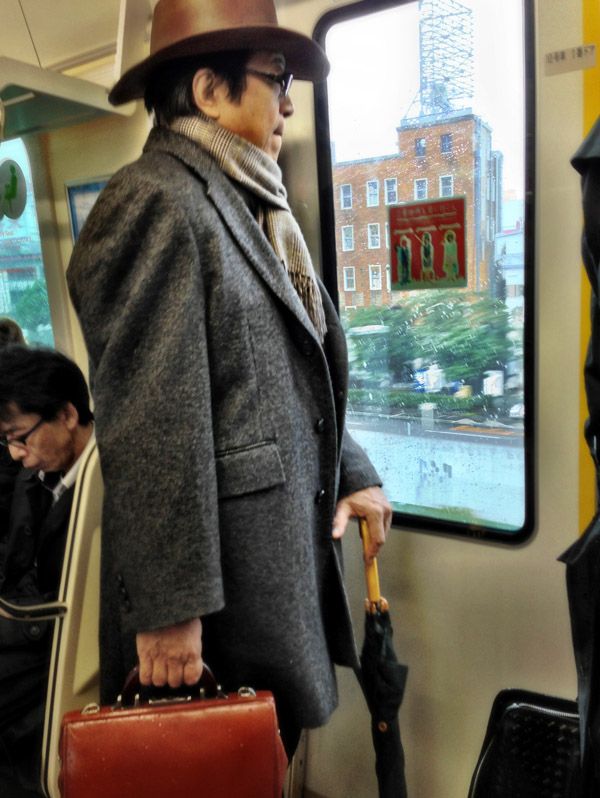 This man below is delivering Kiyoken bento boxes to their counter at the basement (i.e. food) level of the department store Takashimaya. I always see pre-made bento boxes in grocery stores, train stations, and Haneda airport, and they usually look good. But ultimately, nothing beats a Kiyoken shumai bento. Luckily, there's a Kiyoken lurking at every corner everywhere, so you can have one whether you're on the go or not.
Here's what a shumai bento looks like.
Shumai are steamed dumplings, not unlike like gyoza. There are other forms of meat: cooked tuna, kamaboko (the pink and white fish cake), and a piece of karaage, or fried chicken (has more soy sauce and ginger flavor then their American counterpart). There's also sweet egg (the yellow slice), a piece of dried apricot, and the best part, which I remember from my childhood: chunks of sweetened bamboo (very top left). I had this particular bento on the way to the airport, so it was my last meal. I rarely finish meals (I order too much and am picky) but this, aside from the tuna (not a big fan--can I get some more bamboo instead?), I finished. I felt like I won something! So anyway, my love for the shumai bento is why, when I saw the delivery man in his Kiyoken jacket, I took a picture of him. Thank you for your hard work!

I know I shouldn't make fun of "Engrish" or anything like it, but I can't help it. This sweater is delightful.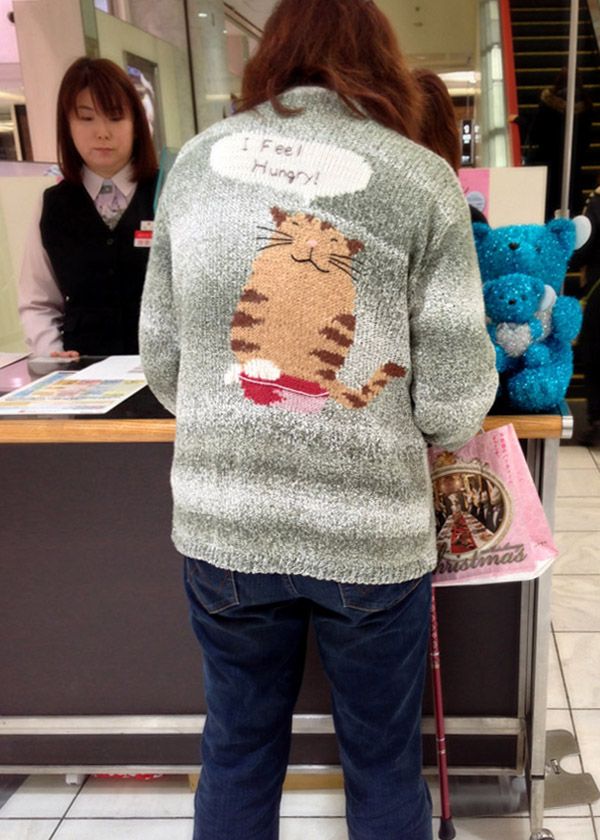 And finally, this is from my first full day in Yokohama. This is past the West Exit of the Yokohama train station, between Bic Camera and Vivre. This is where cars can't pass through, so it's just people. I wasn't doing any particular people-watching (or am I always doing it?), but I noticed this man walking in front of me. When I realized what was going on with his bag situation, I frantically pulled my phone out and started taking pictures. It's a miracle I got this shot where everything but him and his bag are blurry.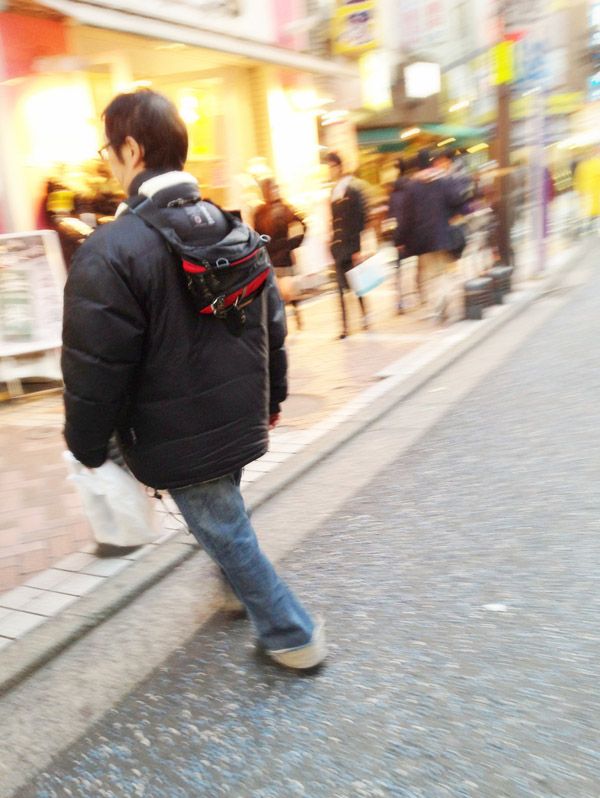 He's got a FANNY PACK AROUND HIS NECK. This is not normal, right? My first couple of days in Japan always feel strange, mostly because of being in a completely different time zone. Sometimes it's something like cultural shock that sinks in harder than it does later in the trip. But is this culture shock? This guy is just doing it wrong! But that's okay, he's got it figured out. I probably shouldn't be taking these pictures and posting them on the Internet, either, but it's okay, I want to share them and I mean to do it with love.