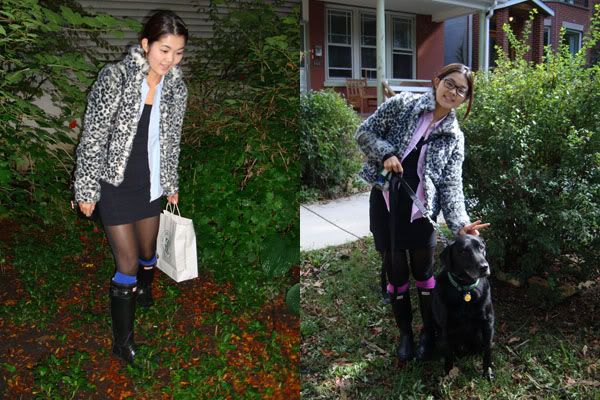 Purchased a sweet knife from W&S as a wedding gift. Jack was with us again for a few days. He's like, "Where's Joe, my new BFF!"
Leopard print seems to be everywhere this fall. I was going through the latest issue of
ViVi
, a Japanese women's fashion magazine, and on about every 10 pages, there would be a model in leopard print something, or there would be a bunch of leopard print coats laid out for comparison. I'm not really sure why I got into it myself, or if I got into it because it's so ubiquitous now, but anyway, I'm a big fan.
Do you ever have those moments when shopping where you come across something so wonderful that you gasp out loud? That happened with this coat. I was looking for a different faux fur coat at H&M, a longer and solid colored one, but instead came across this short jacket. I like that it's snow leopard, like my new operating system (many thanks to DJ Price). When I tried it on, Mordecai started laughing and said I looked like an expensive callgirl. I said, "I'll take it."
I'm also proud of my outfits that vary in color. I happen to have pink and blue oxford shirts from Target and matching knee high socks for each shirt. The weather has cooled off a lot, but it's hard to gauge how cold I'm going to be outside. I imagine that 55 degrees is insanely cold, but then I get out there looking like an expensive callgirl and it turns out I'm fine.