School has started again, piano will start again, the end of baseball season is approaching, and football season is on its way. I heard from
Sean
who heard from his brother that the Farmer's Almanac is predicting a bad winter for the Great Lakes area. Even without that prediction, I'd still be scared of the winter, and I'm preparing for the worst anyway. My plan is to avoid winter blues by paying attention to football, baking, cleaning (!), and keeping color around me. As a result, I've been thinking about changing the background of this blog to white, or some other pastel-y color. Stay tuned. I'm also thinking about highlighting my hair some more. Stay tuned.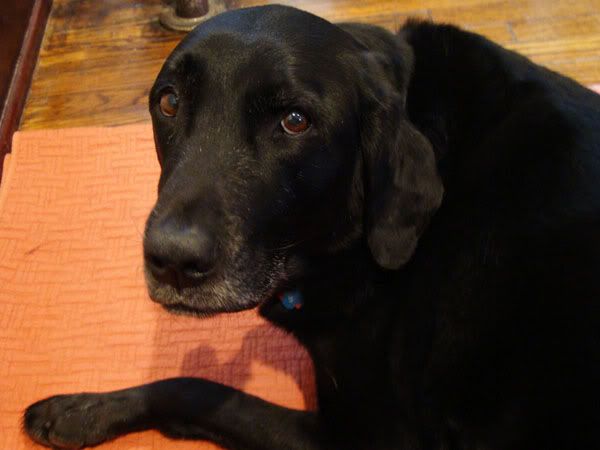 For Labor Day weekend, we dog-sat this superdawg named Jackson. He's easy to take care of because he never barks, doesn't eat or beg for people food, doesn't destroy things, and is well-behaved. Well, he does stick his head in your crotch and kind of nuzzles around. Some people find that offensive, and others like myself find it endearing.
I've also gone through three football drafts this past weekend. I have no idea who anyone is, and I've once again upset Joe by taking his preferred players without knowledge of who they are, what position they play, or what team they play for. All I knew was that Andre Johnson was my first auto-pick in Matt's Fleaflicker league, and that some guy named Cole or Coles was bald, and I thought it'd be nice to have a bald man on my team. Where ignorance is bliss for some, it is apparently hell for others.
Sonia Kashuk for Target eyeshadow brush, Shu Uemura lip/eye brush, MAC 187 I-guess-anything-for-face brush
Also, I'm becoming obsessed with makeup. I don't know much, and there are few resources for true-blue monolids and
Anpanman
faces. Not that I'm complaining about these features. Makeup is so much fun! I never thought this day would come, but here it is. Makeup and football.