Down to the second to last installation of the Honeymoon Series. We arrived at the Marina Grand Resort later than we thought due to the rain, but just in time for check in. The weather was clear when we arrived, but hot and humid the whole time we were there, probably thanks to the passing rain. Here I am in the lobby. I think there was a wedding on the rooftop, and that someone left their Sprite on the log table next to me. Those are paintings of sweaters hanging on the wall, but that is a real dead tree behind me.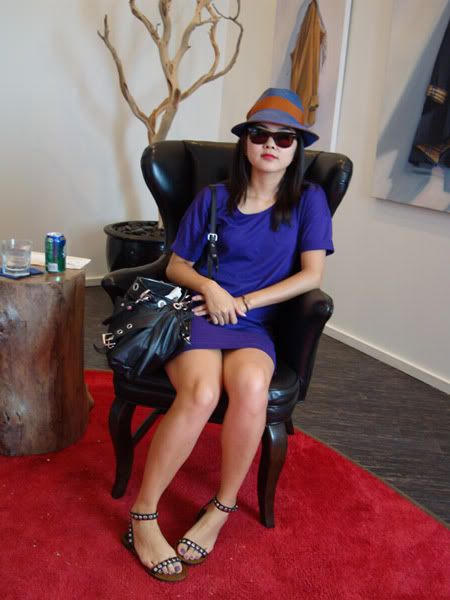 What would you do if you encountered this in a hotel lobby?
The Marina Grand website says that their interiors are inspired by Scandinavian and modern designs. We stayed in
this room
because there was nothing else available at the time we made reservations, so there was a whole bed for the Poppersteins (yes, you read that correctly). Indeed, everything is slick, but I wonder how long the chicness will last. I feel like it'll look really outdated in ten years. Anyway, it was a great room after spending two nights in a Travelodge room.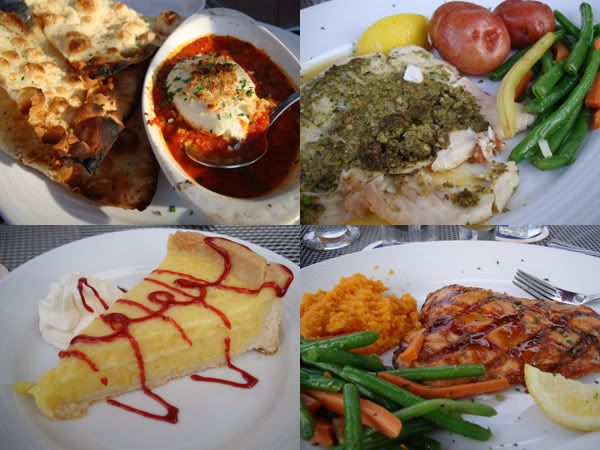 From top left, clockwise: goat cheese in marinara sauce with flatbread; my xoxoCILANTROxoxo and walnut pesto white(?)fish; Mordecai's salmon and mediocre mashed sweet potato; thick-ass lemon tart.
We ate at Bentwood Tavern, the restaurant connected to the resort. We were drinking beers when I heard someone talking about their seats being too close to the doors. The voice sounded incredibly familiar, even nostalgic. When I looked up, I saw none other than my sixth grade teacher, Ms. Ranalli! Who is no longer, but has a hyphenated name, I think. Anyway, yes, Ms. Ranalli as in the daughter of
Ranalli's Pizza
. She was vacationing with her family, and I got to see her kids. To this day, I think of her when I recall how I learned to write an expository essay, how I learned about ancient Greek cultures, and how kids can be cruel to teachers. BTW, she looked no different from her 1996 days. Amazing!
At night we took rented bicycles and rode to the beach nearby. It was both frightening and exhilarating at once. When we returned them, there was a fireworks show across the "harbor" right next to our room. Our view outside the windows basically looked like Diversey or Belmont harbor--a shit ton of docked boats.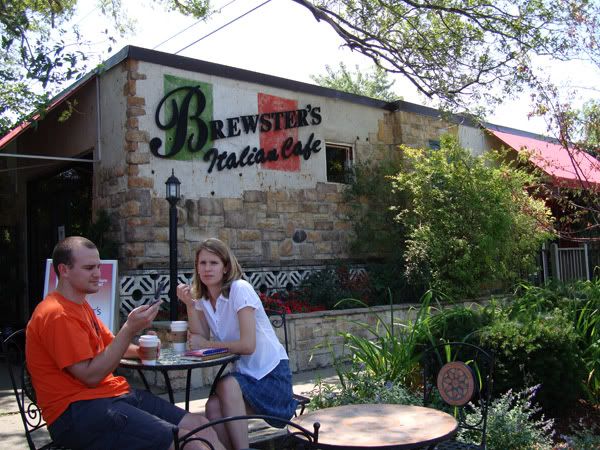 When researching this general area, I came across a restaurant called Brewster's Italian Cafe. This excited me to no end. To me,
Brewster
is the pigeon in Animal Crossing who runs The Roost cafe below the museum. Brewster makes a good cup of coffee, and sometimes he puts a little pigeon milk in it. He doesn't like it when you let your coffee cool. Usually he's tight-lipped, but if you visit him frequently, he begins to open up. This is when your heart melts. Anyway, I was looking forward to this visit very much, which occurred the next day, regardless of how the food was. I have to say, I don't recall it being very memorable, and the portions were huge. But more importantly...BREWSTER'S CAFE!!!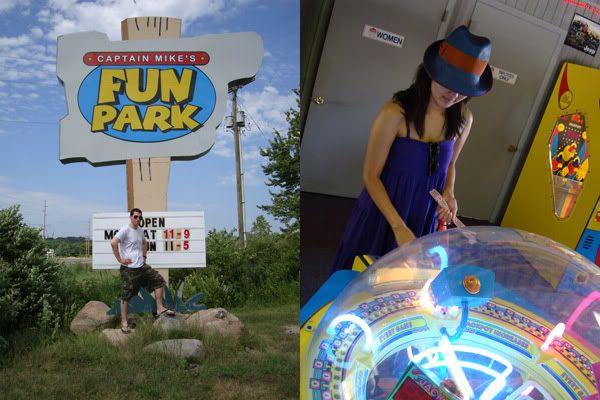 We were going to the Warren State Dunes, but so was everyone else in the surrounding area. So we kept driving along whatever road we were on, and we came across
CAPTAIN MIKE'S FUN PARK
! Wow, what a creative name. But who is Captain Mike? I think his mom was running everything that day. It turned out to be quite entertaining. We took advantage of the batting cages, go-carts, and game room. In the extremely hot and humid game room, I won enough tickets for a childish bracelet, cheap plastic rings, and a deck of playing cards. The go-carts were awesome because I found $11 sitting by the brakes in my car. I stuck the money under my foot in my sandal, drove around the track as instructed, and took it out when I felt we were far enough away from the tracks. Hehe.

We then went to some smaller dunes that turned out to be exciting as well. We climbed the boardwalk thingie, and the view was nice, but a little smokey. I remember exchanging a few words with Mordecai about this, and we told ourselves it was someone's barbecue, specifically, CORN. It turned out to be a full fledged FIRE IN THE DUNES! The fire kept spreading, but it got boring so we started to play catch. Mordecai showed me how to properly grip a baseball to throw it. On top of running around, throwing and catching the ball, it was so hot, I thought I was going to melt.


We didn't start the fire...maybe the guy posing in the Speedo above my shoulder did.
For dinner, we went to Timothy's at Gordon Beach Inn.

Conch fritters; cheddar mashed potato; a bunch of stuff, including chipotle sauce and mango over red snapper; a bunch of stuff, including berries, over...some other kind of fish.
We were originally going to stay at Gordon Beach Inn, where Timothy's is located, until we read reviews online about how the building was old, the walls thin, and the noise from Timothy's prevents anyone from being happy. I then discovered the Marina Grand online, and we jumped ship. But we heard good things about Timothy's, and I was curious about Gordon Beach Inn, so we went for dinner. Let's just say I preferred our room at the Marina Grand. The food was good, except that there was so much going on in the entrees. I think they strive for a wide range of fresh ingredients, but they also try to put every ingredient on earth into your dish, which only amounts to not a whole lot. But the cheddar mashed potatoes were ON POINT.

We left around noon the next day. Chicago is not too far away, so the drive wasn't bad. Before leaving, we had some burgers somewhere nearby, and I saw this motorcycle in the parking lot. It was hard to take a picture of it because of the sparkles, but it was a most awesome bike. Sometimes Oji looks like that, except he's not snarling; his teeth just get caught in his lip. I thought of those three-wolves-and-moon shirt that got popular for a minute, but concluded that this bike is so much better than all those shirts and Amazon reviews/stories online combined.