So Mordecai and I got married a couple weekends ago. It was a fun and happy day, and I didn't feel too rushed or like things got too hectic. I was thinking that our wedding was good because it wasn't all about us being in the limelight, but more about the people who matter to us most and being able to have them all in one place. I thought I had an important thought there in my head, but then in Michigan (more on that for another post), I saw some of former Playmate Kendra Wilkinson's reality TV show and she said the exact same thing of her wedding. So much for my momentous thought of the day! Or perhaps I underestimate Kendra? In any case, I recommend enjoying your wedding if you have one, because there will probably never be such a happy occasion where so many good people convene in one place.
I have only a few pictures of my own of this day, so here is a recap of the wedding day from my perspective.
Mai and I got our hair did at
Salon Moka
, where I got my highlights. I have no idea how Masa-san got my hair to cooperate, but he made me look like
an enka singer
. I never felt so Japanese as I did on this day.

Masa-san and I match! Purple power.
From the time I got my hair did to the time I arrived at the venue, I felt like I was in Japan. My mom, grandma, Mai, and her mother all helped me get ready, so the only language spoken was Japanese; my grandma made rice balls, pickled vegetables, and had fruit on the table; Mai and her mother smoked Pianissimo cigarettes; and there was a lot of bowing once the woman who dressed me in my kimono finished her fine work. I thought I wouldn't be able to breathe with the obi, but I was totally able to move and even wiggle in my kimono. This is a testament to how well Ishikawa Sensei wrapped me up. I ended up wearing my kimono longer than I anticipated, and even ate some dinner in it.


Schedule-wise, everything went perfectly. Even this horrible traffic wasn't a problem. I sat in the front of the car and waved to a few people who realized that there was an oddly dressed lady in the CR-V next to them. Notice the mole on my face; very
Ishikawa Sayuri-like
, in my opinion.


The following is the only picture I have of the actual wedding. You'd think it might be of me and Mordecai, but there must be millions of those photos. Mordecai has three awesome cousins, and they all graciously flew out. Here I am with Sarah, who is also a newly wed.


Sarah! This picture is like the inversion of this one.


After dinner, I made a quick wardrobe change into a white Betsey Johnson dress. I forgot to wear my mom's pearls. I also forgot to eat the cake except for the morsel that Mordecai fed me. Mordecai saved some macaroons for me, and there were plenty of "Hotoda" cocktails (merely cranberry juice, oranage juice, vodka) consumed, so I was all good. I believe I acted a bit giddy, perhaps overly so, at various moments for the rest of the evening, but I'm told it seemed to be a combination of "Hotoda" cocktails and happiness. I guess that's forgivable. Oh, and my grandma danced! Haha.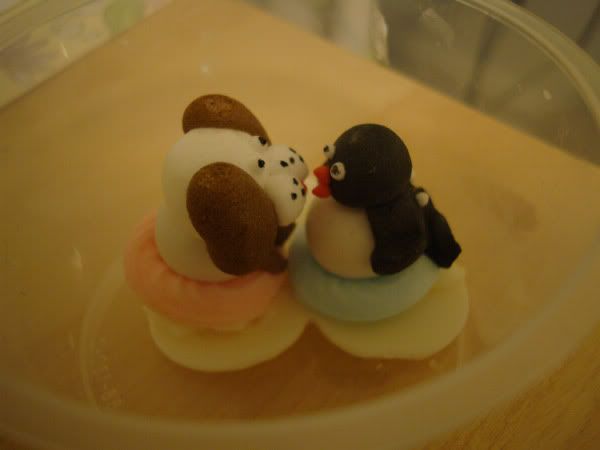 Here are our cake toppers. Our cake provider, Mont Blanc Pastry (Arlington Heights), had only one penguin left, so we asked for, as the pastry chef said, "wan-chan," (translation: maybe "woofie"?), or the dog.
Here
is Sam's excellent recreation of the toppers.
Mordecai and I dropped his parents and sister off at the hotel, and my mom had taken my grandma, Mai, and her mom home. When Mordecai and I got back to our apartment, Mai and her mom had just arrived moments earlier, WITH MCDONALD'S!!! I had not been able to eat a whole lot at the wedding, so this was the most perfect way to cap off the night. Big Mac, fries, McDonald's Coke (somehow superior to other forms of Coke). Some may think that catered, gourmet food should trump Mickey D's, but first of all, that's just wrong (which isn't to say that McDonald's is better than gourmet food, either) and second, why not have both if you can?
Our caterers, John Moorehouse and staff, noticed that when Mai and I went up to get macaroons at the wedding after I changed, only three cassis and three green tea ones remained. The following Monday, my dad saw John, who gave my dad a little bag of two of each macaroon type for me! Oh-to-the-em-gee. The other flavors were raspberry and chocolate, which were the flavors of mousse in our cake.

I could not have asked for better weather, food, desserts, drinks, music, and above all, people, on that fine Saturday. Thank you to everyone who came and made the day as awesome as it was!