I forgot to finish posting about New York. I had another moment of success at Zara, this time in SoHo. At Old Orchard's Zara here a couple of months ago, I tried on this gray dress but they didn't have it in my size. It's kind of blobby, or maybe "bohemian" is the more flattering term. Though a bit battered from sale frenzies, it was in my size and marked down, so it is now in my possession. I don't really have anywhere to go with such a dress, but at least I have something on standby.

We met up with Nate and Corinne and went to Han Bat, a Korean restaurant. This is probably like the fifth time I've been there. As usual, I got the bibimba in the hot stone bowl (dol sot bibimba/ishiyaki bibimba/石焼ビビンバ).


I let the rice char a little too much before mixing it all up.
We went to the Natural History Museum afterwards, which is sort of like Chicago's Field Museum. As a child, I have to say that the Field Museum was one of my least favorite places to go to in Chicago "for fun." Thankfully, the Natural History Museum has more space and stuff. There is a strong element of creepiness to the museum and its collection (I'm convinced it's haunted), but if it's better than the Field Museum? Can't camplain (sic).
Clockwise from top: Capybara (Lucy!), big blue whale, baby dinosaurs, the elusive coelacanth (at least in Animal Crossing)

Near the museum on the Upper Something Side, I scoped out some real estate; an apartment in this building below will do for an extra home. Surely I have enough saved up for this wanty item.
Before heading back to New Jersey and Long Island, we stopped for three-star coffee.
This place had character. There was a French academic next to us flipping through some paper with lots of footnotes, talking in a heavy accent with a student or colleague. Our waiter looked eternally angry, but I'm sure that's just how his face is. They also slice muffins in half and toast them! When we left, I was taking pictures of the interior and caught the attention of a customer who asked us if we were students and were looking for a tutor.

The "tutor" and Nate's toasted blueberry muffin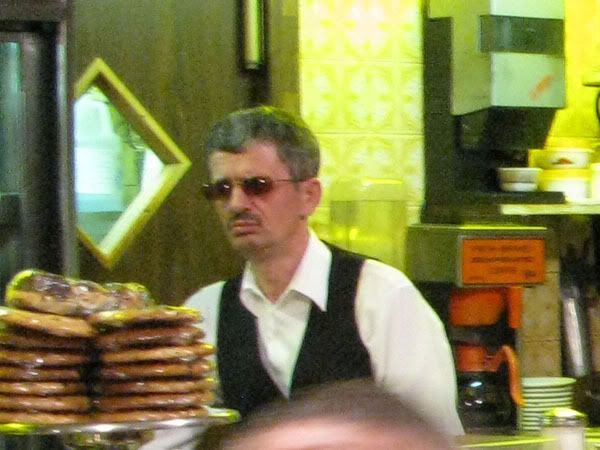 The waiter warrants a closeup; this is why I persisted in taking photos inside, unaware of crazy customer potential.