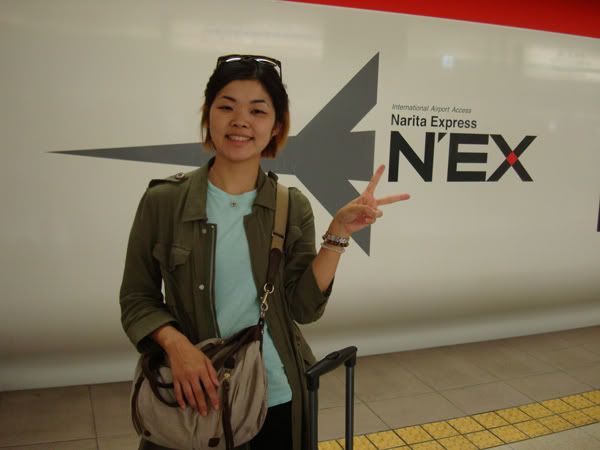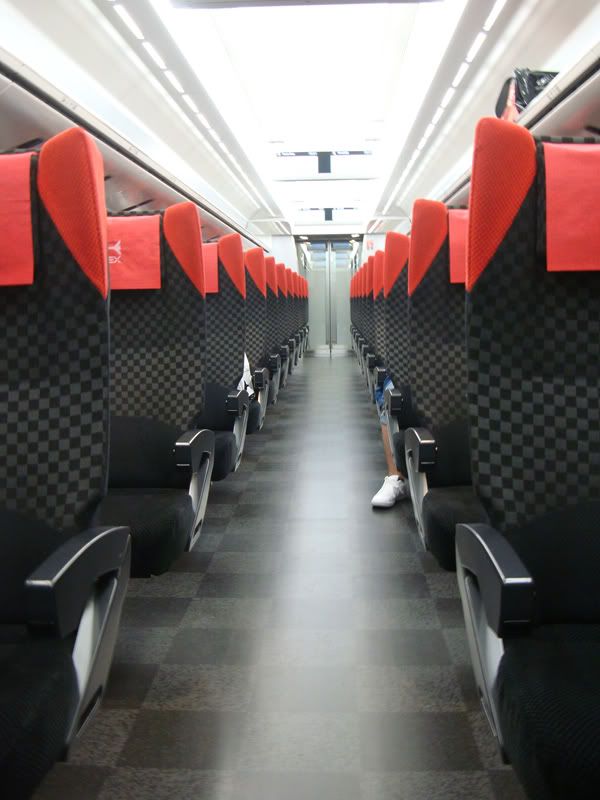 Unfortunately, Narita Airport is really far away from Tokyo and Yokohama. The only thing better than taking the Narita Express (NEX) train to either city is to take a plane directly to Haneda Airport in Tokyo if you're flying out of NYC, Boston, or LA :( (Really--why Boston?! Is it the career fair thingie?) I found a pretty good deal on
an NEX + Suica combo for foreigners
. I find it kind of inviting but simultaneously disinviting: "Please come to Japan and enjoy this heavy discount on the NEX! Ride around Tokyo with this Suica card! But only if you stay for a 14 days (or stay here for good)!" I think the general point is to not alarm foreigners by the original price of the NEX; it really is expensive (about $50, one way). My grandma complained that there was no equivalent "help" for foreigners coming into the United States. Using what felt like insufficient vocabulary, I tried my best to explain to her that under no circumstances, no part of the United States could ever come up with something as extraordinarily beautiful as the NEX, let alone anything as smoothly-run as any of the Japan Railway lines. You either take the CTA Blue Line to or from O'Hare, or the Orange Line to or from Midway, and you pray to the transportation gods that your car doesn't smell like gross body excretionary matter. If it doesn't, consider yourself warmly welcomed by Rahm and the Ghosts of Daleys. When you are surrounded by efficient transportation, especially tailored for the elderly (e.g., the Yokohama bus and subway are free for seniors), I wonder if you can't help but take it for granted. I should have reminded her of the time that she thought that the CTA train was going to derail; we were just underground on the Blue Line! Who the hell wants a discount on that ancient, garbage railway?
I was in Japan for two weeks with my mother. It's interesting, and fun, to live briefly with her again, and especially in Japan. I love Japan even more when I'm there with her, especially when we have nothing pressing to do, lots of good food to eat, and good people to see. The day she left was the day Mordecai arrived, so I dropped her off at the airport and picked him up. The next day, he and I walked around Yokohama's Yamashita Park. My family has a long history with this area in general, and the Hotel New Grand in particular.
We took the Sea Bass (pronounced "Sea Bus"!) to the Yokohama station. You ride in the shaky little boat past Sakuragicho/Minato Mirai, where the Landmark Tower and all those iconic buildings are. I hadn't ridden the Sea Bass for so long, since the early 1990's.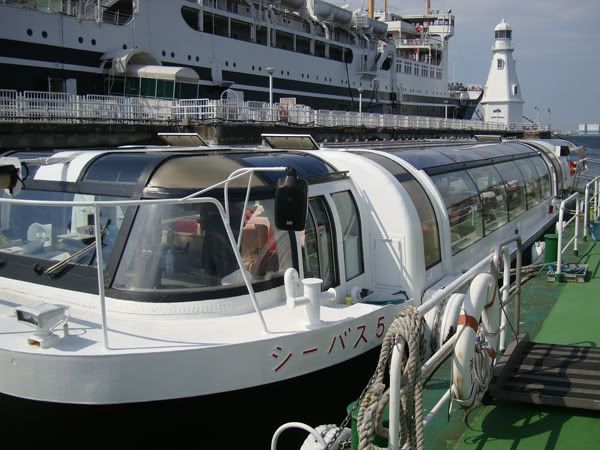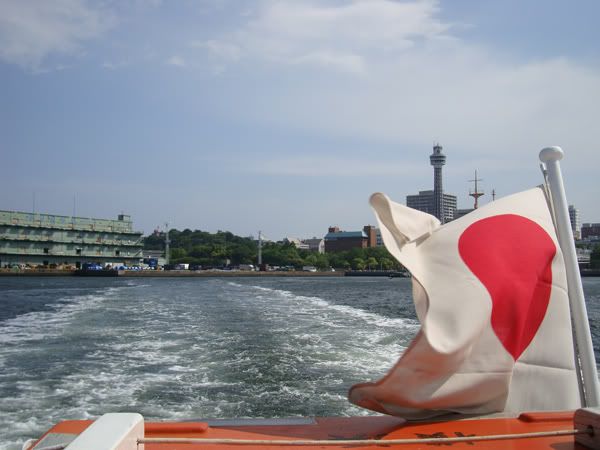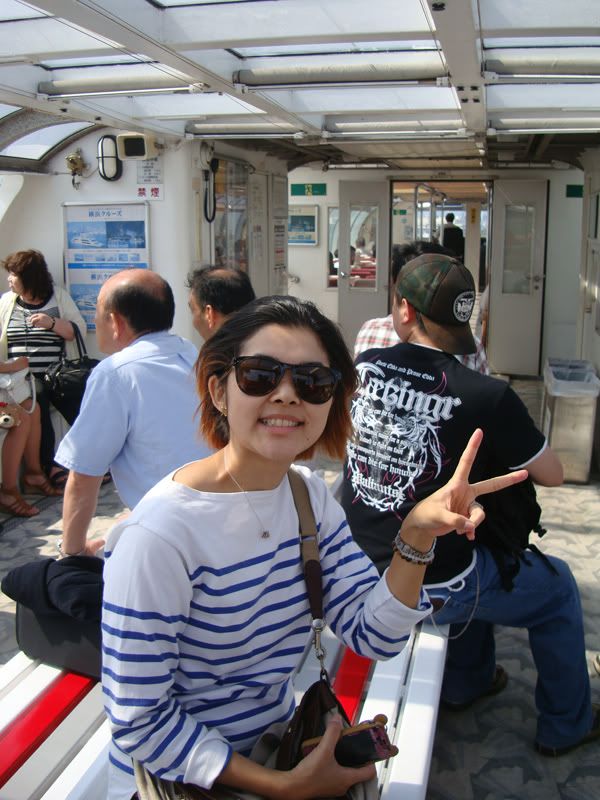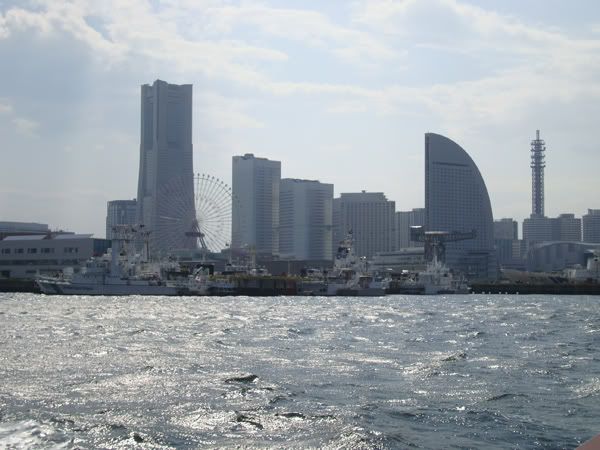 This is an overexposed or washed out (sorry,
Daddy
) but typical view of Yokohama's most famous landscape: Landmark tower, the Cosmo World ferris wheel/clock, the descending Queen's Towers, the crescent-y Intercontinental Hotel.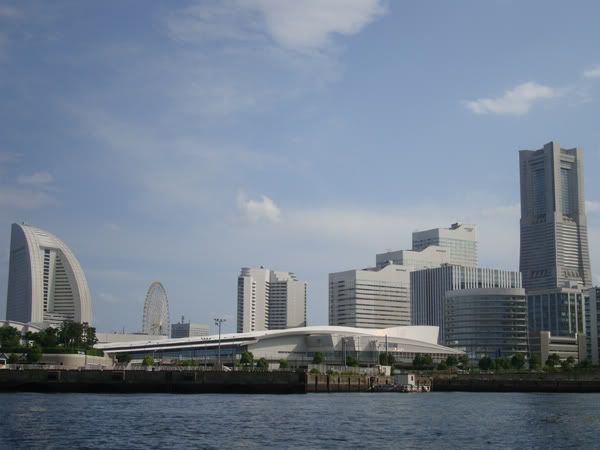 This is the usual view, from behind, which I don't think is noticed very often. The flat structure in the foreground is a convention center, I think.
We went to the
Fujiko F. Fujio Museum
in Kawasaki city; it was my second time in two weeks. Mordecai and I watch Doaremon on Saturday morning, so I insisted that he visit the museum. Which is to say, if you care about Doraemon at all, you should visit the museum, and if you
love
Doraemon, then you are
morally obligated
to pay respects to his creator! I'm not sure I can walk past Fujio's timeline anymore though. It notes his death in 1996, and like a gentle whisper, or to comfort the young ones, remarks that he will always be with us. And then, when you think the timeline is over, it marks the year 2112, the birth of Doraemon. I can't and don't want to articulate exactly why, but I almost started bawling each time I saw this part of the timeline. Somehow, I was able to contain myself, but I still desperately needed tissues as I moved on to the next exhibit.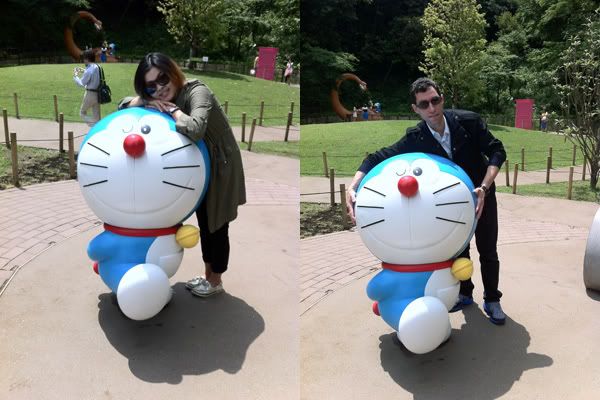 This guy appears in the background of the photo of me and Doraemon. I saw him wandering around by himself, eating a dorayaki (a sweet bean paste filled pastry, Doraemon's favorite snack). I decided he must have been a superfan, so I stalked him a bit with my iPhone that makes no shutter noise when I take pictures. I mean, look at that cross-legged, chill pose! I don't think I could be as confident and cool as him if I went to the museum alone. He deserves another view on this blog. Is he a ghost? A sprite?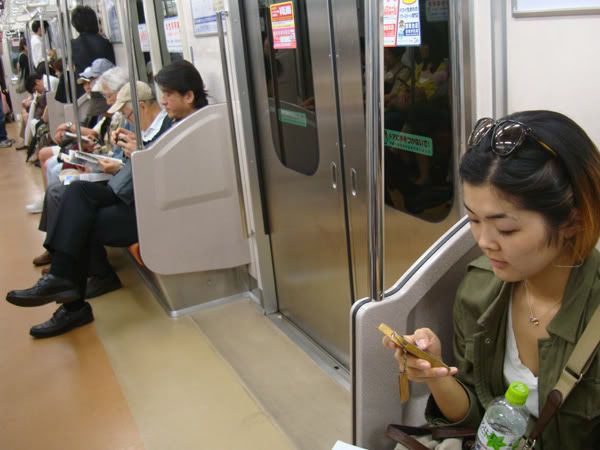 This is on the the subway back in Yokohama after the museum. I didn't know it then, but at this moment, a stomach virus or some other sort of illness was creeping over me as I was about to embark on a trip to southern Japan. But more on that later. Anyway, don't I look Japanese with everyone else?! My peoples! Little does everyone know, I can speak, read, and write as well as only an 8th grader, if that.
These are the Yokohama highlights of our trip, at least as remembered by the Sony camera. The rest of the time was spent in Kagoshima and Yakushima with my cousins, which will be chronicled in the next post! I'm getting there!