Day 15: Something you don't leave the house without.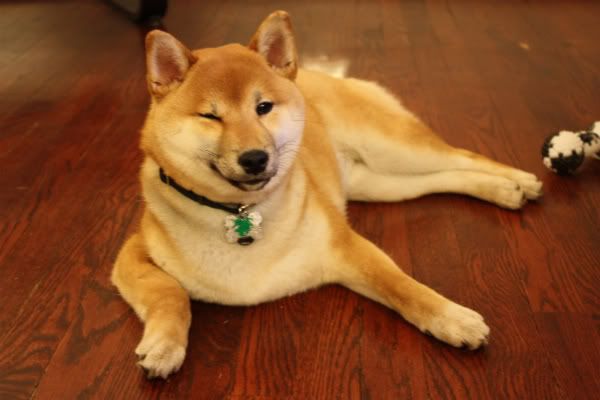 I don't leave home without my keys, phone, wallet, lip stuff, my super chic eczema meds, and thoughts of Mitsu. Is she winking? Or partially falling asleep?
Speaking of the Meat Stew, we bathed her for the first time this weekend. Generally, she is a pretty clean dog. She doesn't smell doggy and she licks herself clean frequently, I guess not unlike a cat, which I've read is a common trait among Shibas. But I wanted her to get used to bathing, or at least treat it as not a big deal as you are apparently supposed to do with everything. On Saturday morning, we took her to
Soggy Paws
, where they provide everything except labor. She didn't seem to mind the water or the shampooing--I imagine she secretly enjoyed the massaging, but she didn't want to let it be known. But after we rinsed and towel-dried, we blow-dried her fur, which scared two poop nuggets out of her! Poor thing. I think we'll be DIYing washes in the backyard during the summer so she can air dry, and if she must be bathed in the winter, peanut butter may help, but we may get special presents regardless if we attempt to blow dry.