Since around the time I last posted, I decided that I wanted to lighten my hair a little. I hadn't changed the color of my hair since senior year of high school when I dyed it back to black for senior pictures. There are many things to think about--wedding hair, roots, highlights vs. overall color change, what shade of brown, how natural or weird it will look, etc. Jenni helped me out a ton, encouraging lighter shades of brown, and my stylist suggested highlights for the time being.


I went to Salon Moka on Milwaukee by Ashland, because word on the street was that the owner is Japanese. It's not exactly a Japanese salon like Uni-Hair is in Arlington Heights, but it's a helluva lot closer than Uni-Hair. The owner/my stylist, Masa, is indeed Japanese, and it turns out he might have even known my dad back in the 80's. Anyway, the results are kind of subtle, which is what I wanted, except in brighter light. I am told that things will tone down a bit over time, so maybe I will have a more concrete opinion as time goes on. I kind of thought that highlights were 1999 or something, but I guess it depends on how they're done. And to Masa's credit, when I was walking away from the salon, I was stopped by two young girls who asked, "Excuse me, where did you get your hair done? It looks nice." It was kind of bewildering; were they spying on me? Anyhoo, I also need to figure out how to get my hair did-did for the wedding.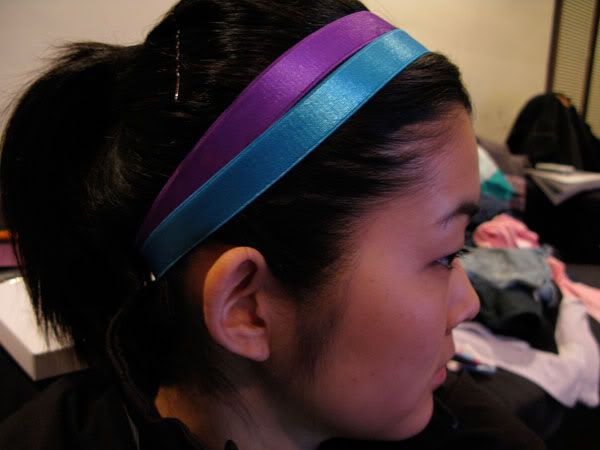 Aside from that, the other hair news I have is that I got another headband from American Apparel with the remainder of a gift card. I decided to get the tealish-blueish one, and I layered it with the purple one I wear often, to get THROWBACK ARIZONA DIAMONDBACK COLORS!

Matt Williams
Not that I'm fond of the Diamondbacks, or know who this Matt Williams person is. I just thought it was funny that their colors used to be purple and teal, but then I read on Wikipedia that it wasn't teal, but turquoise, and further, there were reasons for the color choices:

...Turquoise was chosen because the greenish-blue stone is indigenous to Arizona, copper because Arizona is one the nation's top copper-producing states and purple because it has become a favorite color for Arizona sports fans, thanks to the success of the National Basketball Association's Phoenix Suns.

I do have a couple of D'Backs, or D'Bags, as some might say, on my fantasy team, and
Carlos Quentin
got his start as a D'Back with the older colorway. This headband combo matches my my
purple mosaic Outdoor duffel bag
, and my teal/turquoise umbrella. It's been rainy on-and-off, and I've been using that bag from last summer, so I take pleasure in matching those accessories with ones for my hair.